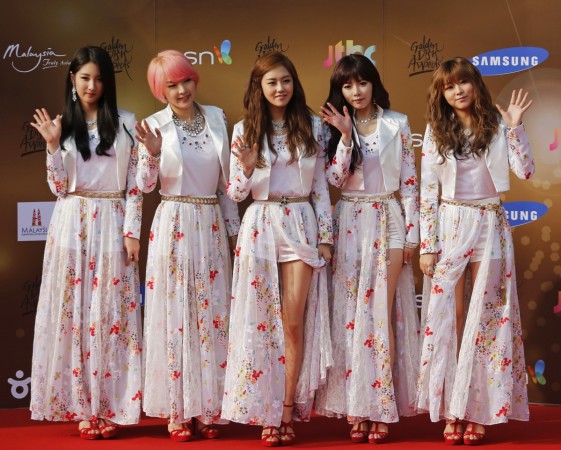 All girl group 4Minute is disbanding after enthralling fans for the past seven years. In a recent statement, the quintet's agency Cube Entertainment confirmed that the band members will no longer make music together as a result of different ideas and career paths each has chosen.
According to Soompi, Cube Entertainment's statement read, "As the contract end date approaches, the members have been in discussions for renewal, but while the agency tried to persuade them to continue the group, it ended up accepting the decision by the five members that they will not continue as a group."
This statement comes after rumours of the band's split surfaced a few days ago. According to various reports, some members of 4Minute wanted to focus on their singing and acting careers and didn't want to continue working with the band.
Although 4Minute, comprising HyunA, Jeon Ji-yoon, Heo Ga-yoon, Kwon So-hyun and Nam Ji-hyun, will cease to exist, it is still unclear if the band members will leave the label as well. So far, only HyunA has renewed her contract.
News of 4Minute's disbandment is indeed a shock to many fans that grew up listening to the all girl group. On NetlizenBuzz, many fans expressed their anguish. One fan wrote, "This is a surprise because I never thought they would disband as a group. If all discussions are done and final, there's nothing we can do but it's a shame... I guess there was a reason why Hyuna took the entire fan requests at their recent fan meet."
As the band's journey has come to an end, here are some interesting facts and memorable moments of their seven year stint in the K-pop scene.
The band headlined for the first KCON festival, which took place in 2012. But unfortunately, Gayoon gave the concert a miss due to illness. The four member band was known as the "representative girl group of K-pop."
4Minute collaborated with international artists such as Skrillex. Their combined effort resulted in their most popular song, "Hate."
The band members are known as fashion idols, with Gayoon at the helm of everything that's related to clothing and accessories. In fact, there are many Tumblr blogs solely dedicated to the band members' sense of fashion.
One of the most memorable moments for fans of 4Minute occurred when HyunA appeared on PSY's world famous song, "Gangnam Style."
According to fan blog, Wattpad, 4Minute was originally supposed to have six band members.
4Minute was the first K-pop band to have a Vevo account.
They lived together for a year before their debut in 2009.
Their fan group is called 4Nia.
The band has produced seven albums so far. The last one being act 7.