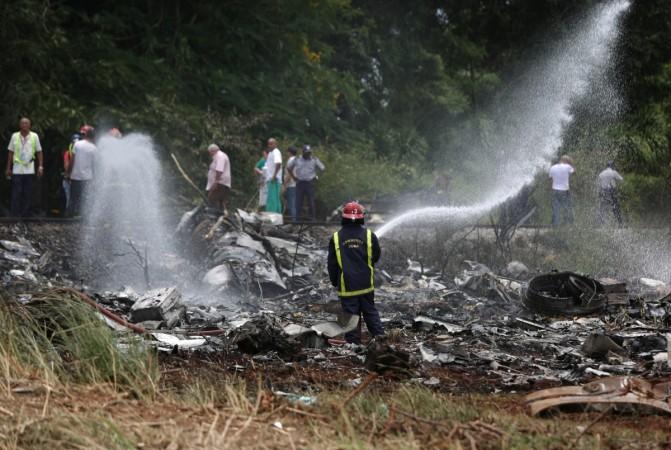 Cuban officials said they have found one of the two black boxes from a plane that crashed near Havana airport, killing more than 100 people, in "good condition".
Transport Minister Adel Yzquierdo on Saturday said he hopes the second device will be recovered soon, BBC reported.
He revised the official death toll up to 110 people, including 11 foreigners.
Three women survived the crash, but are said to be in a critical condition with serious burns.
The incident is Cuba's worst air disaster in decades, and two days of national mourning began on Saturday.
Officials said investigators are combing through the wreckage of the plane, a Boeing 737 which was nearly 40 years old, at the field where it crashed some 20 km south of the Cuban capital.
The black box which has already been recovered will hold key flight data and information about what happened to the plane.
Yzquierdo told journalists that the 110 dead included 99 Cubans, six Mexican crew members, two tourists from Argentina, one from Mexico, and two passengers from Western Sahara.
The Argentine couple were named by their government as Dora Beatriz Cifuentes and Oscar Hugo Almaras, both in their sixties.
Several victims' relatives have travelled to Havana to help identify the deceased.
Those coming from Holguín - the plane's intended destination - and other eastern parts of Cuba made the 700 km trip on buses, escorted by the National Revolutionary Police, Efe news reported.
President Miguel Diaz-Canel has visited the morgue where the victims are being identified.
Cuban authorities do not plan to release the full list of the dead until all victims' families have been informed.
The Boeing 737-201 crashed at 12.08 p.m. (Cuban time) on Friday, shortly after taking off from Havana.
It's too early to say what caused the crash, but eyewitnesses on the ground described seeing the jet burst into flames before crashing into a field close to a wooded area near the airport.
Boeing said that it was ready to send a technical team to Cuba, "as permitted under US law and at the direction of the US National Transportation Safety Board and Cuban authorities".
A US trade embargo has been in force against Cuba for many decades.