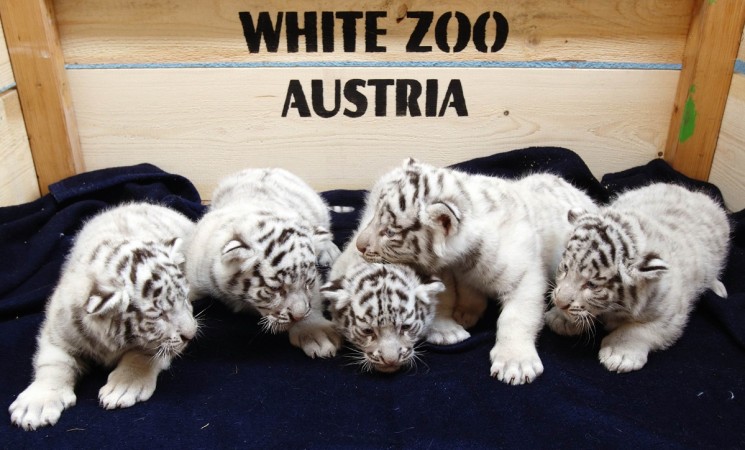 An Austrian zoo has given the public the first glimpse of five little Bengal tiger cubs born a month ago, and the single male in the brood was named Obama, for some unknown reason.
The mother tiger, Burani, gave birth to the five at the private White Zoo at Kameltheater Kernhof in St. Aegyg am Neuwalde, Austria on 25 April.
Zookeepers have named Obama's four sisters as Lali, Lela, Lila and Lulu.
The cubs were monitored alongside their mother since they were born, and all of them are healthy, zoo director Herbert Eder said, according to reports.
Photographs of the cubs playing with each other at the zoo have since gone viral.
The cubs were unveiled just around a month after the Buenos Aires zoo in Argentina had showcased their own brood of beautiful Bengal tiger cubs, reportedly born to mother Cleo and father Rhiano.
Meanwhile, the fact that the one of the cubs unveiled by the Austrain zoo was named Obama has invited a surge of funny comments online.
"Beautiful, but they couldn't come up with a better name than Obama?" said Keith Pavy, reacting to the story on Facebook.
"The cub named Obama doesn't seem to have all of the documentation that he needs... just the short form," read a quip from Alan Johnson.
"Lol! Obama is a handsome devil!" said Barbara Johnson.
"Where is Osama?" joked Pinky Thokchom.
The white tiger is a rare pigmentation variant of the Bengal tiger, and is considered to be in the final phase of extinction. The breed is found from time to time in the Indian states of Assam, Bengal and Bihar among others.