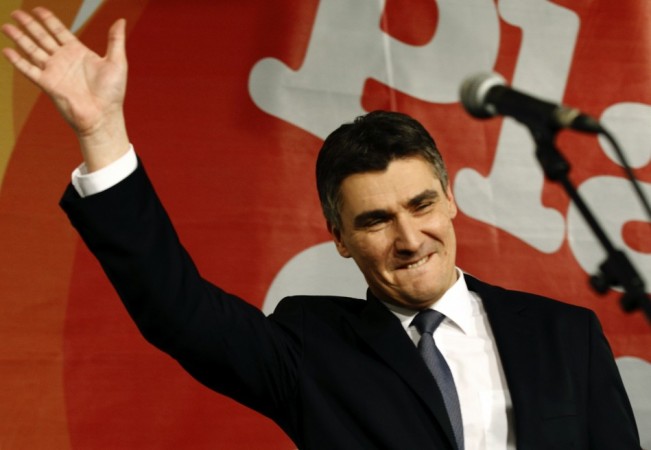 After two decades of fighting itself free from Yugoslavia, Croatia joined the European Union at midnight on 1 July.
"This will change the life of this nation for good. I welcome you wholeheartedly," Herman Van Rompuy, president of the European Council, told the crowds.
"Croatia's accession to the European Union is a historic event, which returns the country to its rightful place at the heart of Europe. I look forward to Croatia's contribution to the EU, which will be a success story - to the benefit of the Union, of the people of Croatia and of South East Europe as whole," said President of European Commission José Manuel Barroso.
At the Zagreb's Ban Jelacic square, thousands celebrated the moment when Croatia became the 28th member of the European bloc with fireworks and cannon-fires. Most forgot the troubles of their country which is in its fifth year of recession. After signing the ratification treaty, the Croatian government is strictly prohibited in providing subsidies. The small nation of 4.4 million people now has to abide by the 'cumbersome system' of the EU.
The nation with a vibrant diversity became second of the seven states after Slovenia in 2004 to enter the EU. It is a landmark moment for the nation that underwent the 1990s wars which killed over 120, 000 people. There were 20,000 Croats killed among them.
"We are finally here. We are just another regular European nation, small nation. The nation of very big diversity given our size which is not sheer, not big. It is just 4 and half million. Wish us luck, altogether." Croatian Prime Minister Zoran Milanovic had said during the accession ceremony on 28 June.
To join the EU, Croatia has gone through seven years of tortuous and often unpopular EU-guided reforms. Croatian national oil joint stock company Industrija Nafte (Oil Industry, or INA) was pressured to divest itself of its indulgence in civil war torn country Syria. Prime Minister Milanovic admitted last year that there were stakes amounting to '600 million annually', which is huge for the small nation, that they had to cut away from.
Furthermore, Croatia is undergoing a process of re-negotiating free trade policies with its neighbours, since it's a part of EU now.
"We don't want Europe to stop at our borders, it must be open to other countries," Croatian President Ivo Josipovic told the ceremony.
It has extradited more than a dozen Croatian and Bosnian Croat military and political leaders charged with war crimes, sold shipyards steeped in tradition but deep in debt, and launched a fight against graft that saw former prime minister Ivo Sanader jailed, said a report in Reuters.
The recession has left one in five Croatian workers jobless and now more than 20 percent of the population is unemployed.
"Europe is all about work, work, work, no joy, no warmth," said Agata Miletic, a mother of seven who came to the ceremony told Reuters. "When you hear that some countries want to leave the EU that they have no money, you can't be optimistic."
There were some 170 foreign officials, including 15 heads of state and 13 prime ministers present. But the famous German Chancellor Angela Merkel was absent from the ceremony.
Turkey is still waiting for a response
As the Adriatic republic becomes the 28th member of the European Union on July 1, Turkey is still waiting for full membership to the bloc.
Both the countries, Turkey and Croatia, started the negotiation process eight years ago in 2005. Turkey had applied for associate membership of the European Economic Community (EEC) in 1959. Ankara received the status of a candidate country in 1999, when Croatia was a young eight-year-old country. But the negotiations for accession for both the countries began in October 2005.