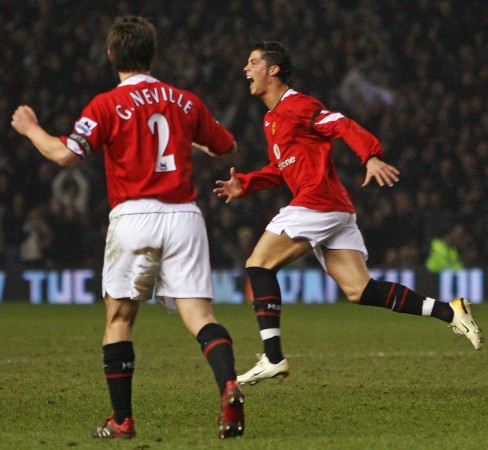 Manchester United legend Gary Neville says that now, after the arrival of Angel di Maria and Radamel Falcao, it is "possible" that Cristiano Ronaldo might return to Old Trafford in the near future.
The Real Madrid forward has been surrounded by rumours of a return to United for some time now. Reports have suggested that the 2013 Ballon D'Or winner is willing to make a comeback to United as he is "fed up" with his life at Santiago Bernabeu.
The Los Blancos' decision to sell di Maria and Xabi Alonso this summer is reportedly the biggest reason for Ronaldo's frustrations.
United shelled out big money on the likes of di Maria and Falcao this summer, making Neville believe that Ronaldo can also make a move to Old Trafford soon.
"There was talk last summer that it was either going to be Cristiano Ronaldo or Gareth Bale and there are rumours of Cristiano not being happy in Madrid," Neville told Sky Sports.
"You'd have to say that with what they've done with Di Maria and Falcao it's more possible, it has to be, because they've shown the real intent to go and sign world-class players."
Neville also pointed out how Ronaldo loves and misses United, where he flourished under Sir Alex Ferguson.
"Does he love Manchester? Does he love United? Yes, absolutely. He has talked more and more in the last 12 to 18 months about how he misses Old Trafford."
The Portuguese has won three Premier League titles and a Champions League during his time at Old Trafford.
Meanwhile, Neville was happy with United's performance against QPR on Sunday but he does not think that the Red Devils are in a position to win the league.
"I don't think they can, I really don't," Neville said. "I'm not sure if they've got enough, but what they are is closer to the title than they were three weeks ago in respect of maybe next season or the season after you can now see some light at the end of the tunnel with the players that they've signed."
"I think Chelsea and City this year are the two strongest teams and defensively, when they come up against the big sides, there will be a problem in dealing with them."