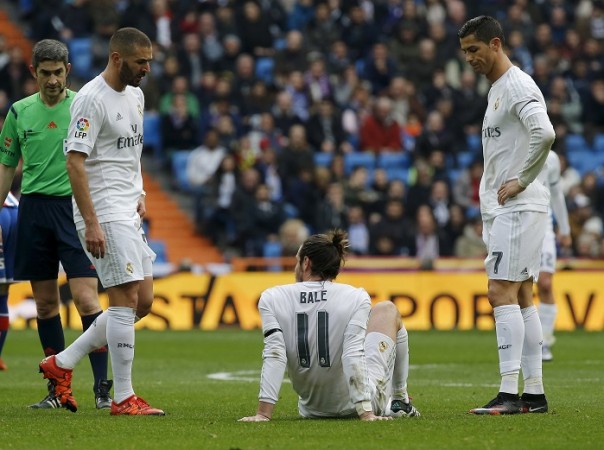 Cristiano Ronaldo does not believe in the "get on well off the field, you will get on well on the field as well" theory, with the Real Madrid superstar quite content with just doing the business with his teammates on the pitch, where it matters most.
As the relationship between Lionel Messi, Luis Suarez and Neymar continues to improve off the field, the pattern of play, the understanding, the selflessness and the sheer joy that these three provide on the pitch keeps increasing day by day.
With Real Madrid holding a ridiculously-good front three of their own in Ronaldo, Gareth Bale and Karim Benzema, the Portuguese, during a prematch press conference for the UEFA Champions League last 16 first leg against Roma, was asked about the importance of players building friendships off the field.
"If friendship is important off the pitch, as shown between Luis Suárez, Lionel Messi and Neymar, what have I to say?," Ronaldo was quoted by UEFA's official website.
"I'll just give you an example. When I played for Manchester United I wasn't friends with Ryan Giggs, Rio Ferdinand and Paul Scholes, but we had a wonderful team that won the UEFA Champions League [in 2008].
"I don't go to dinner with Gareth Bale or Karim Benzema, but this is not important -- what you do on the pitch is what counts."
What Real Madrid are doing on the pitch, at the moment, is not quite to the level of Barcelona, who can go seven points clear of Real Madrid in the La Liga with a win over Sporting Gijon on Wednesday. However, the two sides are more at level pegging in the Champions League right now, with Real Madrid looking to topple Roma on Wednesday, while Barcelona play Arsenal next week.
While building friendships is not on Ronaldo's list, the Portuguese does have huge respect for the greats of the game, particularly Francesco Totti, who the 31-year-old will lineup against in the Champions League match between Roma and Real Madrid.
"Francesco Totti is impressive. He is an example for all," Ronaldo aid of the Italian legend. "He demonstrates that age is not important in football -- if you feel good, you enjoy it.
"If you play at the level he does it's good for him, for football and also for the children, because we give them the idea that football has no limits."