The Neymar to PSG saga looks like it will rumble on for a while yet, despite certain reports last week suggesting the deal was already done and the Brazilian would leave Barcelona in the summer transfer window. To spice things up, Cristiano Ronaldo has come into the picture along with English Premier League heavyweights Manchester United and Neymar's Barca teammate Gerard Pique.
Reports last week claimed Neymar had agreed a deal with PSG, with wages worth up to £500,000 a week, while the French club were ready to pay the €222 million (£199 million) buyout clause currently in his Barcelona contract.
Talks have reportedly already taken place between Neymar's representatives and PSG, with the only thing that remained being the actual world record bid to be put in to Barcelona.
However, that move could end up being a non-starter if Cristiano Ronaldo has anything to do with it.
According to Diario Gol, Ronaldo has been in contact with Neymar, after the stories of his proposed move to PSG came out, imploring the Brazilian to have a rethink.
And that rethink has nothing to do with him staying put in Barcelona. Nope, Ronaldo wants Neymar to wait for Manchester United to make a move and accept that transfer.
The report says Ronaldo and Neymar, who are friends off the field, have been in contact on the messaging service WhatsApp, with the Real Madrid superstar asking the Brazilian to hold off on the move to Paris Saint-Germain.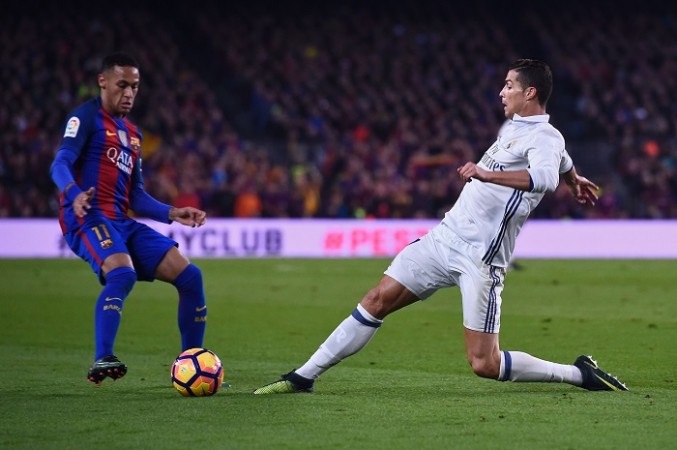 Ronaldo believes a transfer to PSG will be a step down from Barcelona, while Manchester United would be a great move. Ronaldo made his name and turned himself into one of the best players in the world at Manchester United, with the Portugal international linked with a switch back to his former club in almost every summer transfer window.
All of this could end up being moot, though, if Pique is to be believed. In a post on his Twitter account on Sunday, Pique seemed to suggest Neymar had made up his mind, a decision that is likely to disappoint both PSG and Manchester United.
Pique posted a photograph with Neymar, with the words "Se queda", which translates to "He stays," suggesting Neymar is going to stay put at Barcelona.
Lionel Messi and Luis Suarez have also reportedly spoken to Neymar to convince him to stay at the Camp Nou, and now it seems PSG's attempts at a world record transfer might fall short again, while Ronaldo will end up playing against Neymar in La Liga.