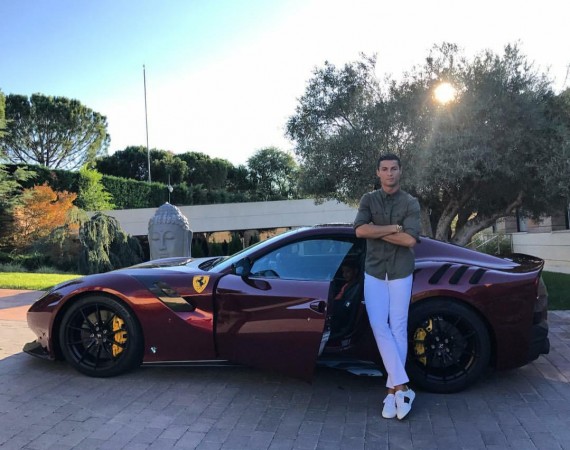 Portuguese professional footballer and Spanish La Liga team Real Madrid's winger Cristiano Ronaldo has one of the most enviable supercar garages. The 32-year-old Portuguese player's car collection included a McLaren 12C, an Aventador, a Mercedes S 65 AMG, a Porche 911 Turbo S, a Rolls-Royce Ghost, a Bentley Continental GT Speed, a Maserati Gran Cabrio, an Audi S8 and a Ferrari 599 GTO.
The player recently added yet another supercar to his garage. The model in question is the Ferrari F12tdf. Ronaldo has posted a picture of his latest prized possession on social media platforms.
Ferrari revealed the F12tdf as lightweight, track-focused version of the F12berlinetta grand tourer in 2016. Limited to 799 units, the F12tdf pays homage to the Tour de France, the legendary endurance road race that Ferrari dominated in the 1950s and '60s particularly with the 1956 250 GT Berlinetta.
The F12tdf is powered by the same 6.3-litre naturally aspirated V12 engine that also does duty in the F12berlinetta. The mill develops increased 770bhp and 705Nm of torque from the standard's 719bhp and 690Nm of torque. The engine is mated to an F1 gearbox double clutch 7-speed transmission. It also weighs 110 kg less than the standard F12berlinetta. The F12tdf can accelerate from 0-100kmph in just 2.9 seconds. The sports car also reaches a top speed of 340kmph.
Last year when Portugal won Euro 2016, Ronaldo had celebrated the victory by buying a Bugatti Veyron 16.4 Grand Sport Vitesse. The former Manchester United player posted the picture of his Bugatti supercar with the description, "The animal arrive."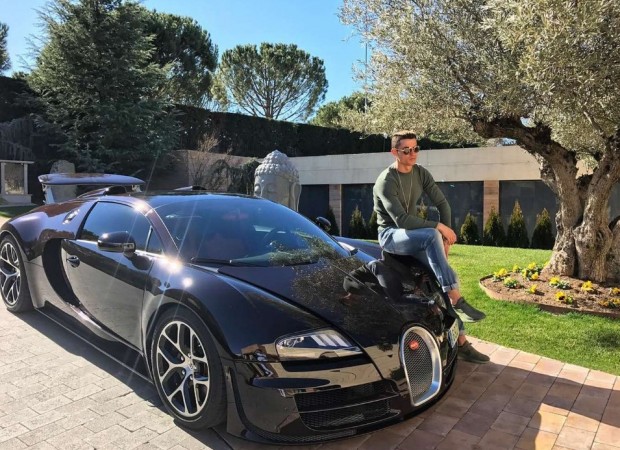 Earlier this year, Ronaldo was also part of a video where Bugatti test driver Andy Wallace was seen introducing Chiron to the ace footballer. The video showed Ronaldo taking the Chiron for a spin on VW Group's Ehra-Lessien test track. He hasn't received one yet though.
Source: Instagram/ Cristiano