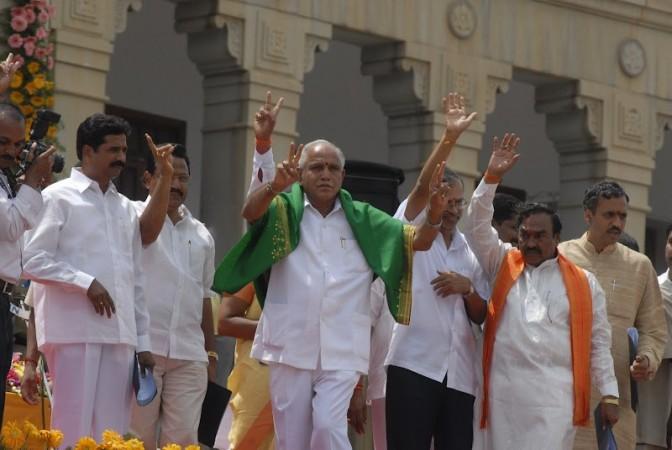 The crisis in the Bharatiya Janata Party (BJP) unit in Karnataka has worsened after seven ministers offered to quit following former chief minister B S Yeddyurappa's threat that he would resign from the state assembly on Monday.
The resignation threat came in the wake of the Supreme Court's order on Friday to conduct a CBI probe into allegations, including of illegal mining, nepotism, lands scams and favour towards top mining companies, against Yeddyurappa based on the recommendations of the Central Empowered Committee (CEC).
According to sources, Yeddyurappa was reportedly angry and upset over chief minister Sadananda Gowda and the state party over the lack of support shown to him after the Supreme Court order.
Ministers, including Shobha Karandlaje, V Somanna, Basavaraj Bommai, CM Udasi, Murugesh Nirani, Umesh Katti and MP Renukacharya, have submitted their resignation letters to Yeddyurappa on Saturday evening.
"Our leader is free to take any decision on our resignation. Since we have been accused of indulging in anti-party activities, though we have not done anything, we chose to quit", IBN Live quoted one of the ministers as saying.
According to reports, two more ministers may resign in support their leader.
In March, Sadananda Gowda and state BJP president K S Eswarappa sent a letter to BJP president Nitin Gadkari seeking action against some ministers, who are loyal to Yeddyurappa, accusing them of indulging in anti-party activities.
As many as 38 MLAs and some ministers had demanded a legislative party meeting to be convened to discuss party affairs in the state and also the letter that the chief minister had written to Gadkari. But Gowda rejected their demand.
Yeddyurappa has been holding meetings to discuss the SC order to conduct probe against him in connection with illegal mining. RSS leader Satish met Yeddyurappa to persuade him not to resign, but his efforts failed.
Meanwhile, Sadananda Gowda has played down the crisis in the party. "I have not received any resignation letter so far. There is no crisis in BJP", Gowda told reporters in Bangalore when they asked him about his reaction over the resignation letters submitted by seven ministers.
On July 31, 2011, Yeddyurappa resigned after a Lokayukta report drafted by Justice Santosh Hedge on Bellary illegal mining pointed out his possible involvement that caused Rs 16000 crore loss to the state exchequer.
But the Karnataka High court quashed an illegal mining case that was filed against him and also Governor H R Bhardwaj's sanction to make criminal proceedings against Yeddyurappa.
After this, Yeddyurappa has intensified his campaign to regain chief minister post. In March, he visited Delhi with the support of 70 of the 100 MLAs in the state to prove that he could regain to power. But the party leaders refused to bring back him to power as it would affect their campaign against Congress party.