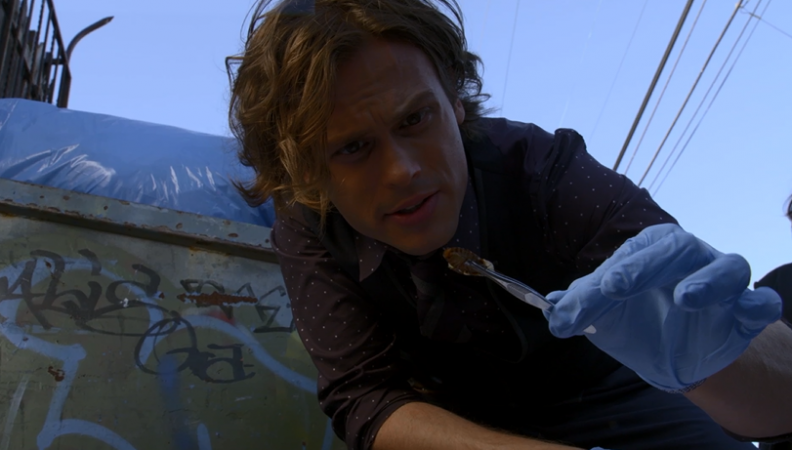 If fans of "Criminal Minds" were under the impression that Dr. Spencer Reid's romantic interest does not involve Cat Adams, the show will prove them wrong. In season 11 episode 13, the delusional blind date from the mid season premiere makes her comeback, and with it, introduces romance into the plot.
In the latest episode of "Criminal Minds," Dr. Reid (Matthew Grey Gubler) will pay a visit to Cat Adams (Aubrey Plaza). While his reasons for meeting the woman who wanted to kill him are unknown, the actress teased that her character will re-appear in the rest of season 11.
In an interview with TV Line Aubrey Plaza said, "For me it was a love story. And I don't think it's over. I think you're going to see Spencer visiting me in jail, Hannibal Lecter style."
Dr. Reid will possibly pay a visit to Adams to gather information regarding the latest crime that the Behavioural Analysis Unit has to solve.
According to the synopsis, FBI's Behavioural Analysis Unit has to find the motive behind several murders that take place at truck stops. In the promo for the upcoming episode, it is evident that a mother-son duo is responsible for the deaths. However, it isn't yet clear why the two would engage in a crime that heinous.
Perhaps the mother and son are psychologically unstable? In the promo, the mother tells her son, "Mother will accept you and love you no matter what."
Season 11 episode 13's synopsis released via TV Guide reads:
"The BAU searches for a motive and an UnSub when victims are found in truck stop restrooms along highways throughout the South."
"Criminal Minds" season 11 episode 13 titled "The Bond" airs on Wednesday, 27 January at 9pm on CBS. You can live stream the episode via CBS All Access.
Watch the promo here: