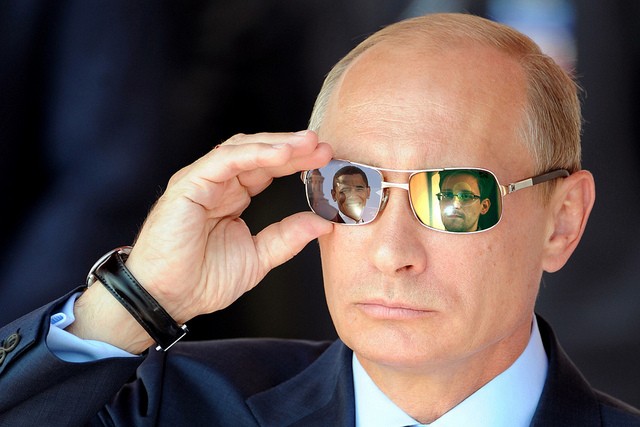 Russia launched new military exercises near its border with Ukraine on Thursday as continued threats of sanctions from the international community have not made Vladimir Putin blink even as the most controversial Crimea referendum looms large on Sunday.
German Chancellor Angela Merkel has warned of 'catastrophe' unless Russia changes course while members of the international community continue to simmer in angry outbursts which have now triggered the worst confrontation since the Cold War.
US Secretary of State Jonh Kerry travelled to London on Thursday for talks with Russian foreign minister Sergei Lavrov on the crisis and spend six hours over what the former called a 'constructive' dialogue; an incident that has been considered as a last attempt to convince Moscow for a political solution.
Kerry said that Putin is not willing to decide on the fate of Crimia until after the voting takes place on Sunday which will clarly be dismissed by the US and EU as illegitimate. But from the face of it, Putin is most likely to take advantage of the approval of people to belong to Russia.
Even as Kerry insists the US national security is 'better served' by offering Kremlin a last way out of this crisis, US lawmakers have called for tougher actions against Russia. UK Prime Minister David Cameron has fired Russia with bullets of condemnation just as US President Barack Obama has looked increasingly discomforted with Russia's growing belligerence.
While the Western leaders are counting on the threat of wide-ranging sanctions against Russia to make Putin budge, the leader who is increasingly getting isolated is yet to blink.
Russia has no qualms for sending troops to seize control of the Crimean peninsula last month; an incident that has led to one of the most disturbing backlashes in international diplomacy in recent times.
While the US and Europe have stepped up their threats of punitive actions, pro-Russian protests in Crimea and Ukraine eastern region - including the deadly clashes Wednesday night - have only given Kremlin the pretext to further bulldoze into the region.
Putin has no choice right now as his country is likely to suffer an Iran-style isolation, while a possibility of a deadly standoff leading to a massive military miscalculation is sending waves of tensions across the globe.
The next flash point, however, is the referendum on Sunday that will decide if Crimea will wake up next morning in another country. While the ballot will have no international legitimacy, curiosity and frustration have grown on the question of what will happen next.
But one thing that we know for certain is the world has very little time to change what is to come next.