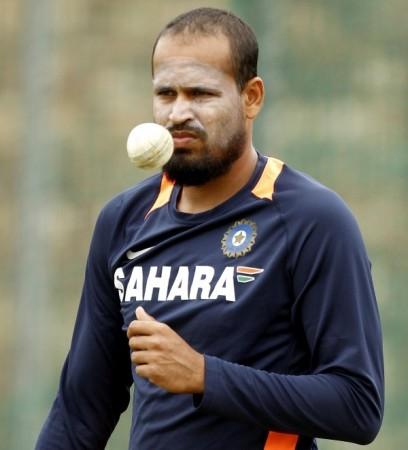 All-rounder Yusuf Pathan married his fiancée Afreen, a Mumbai-based physiotherapist, on Wednesday night.
The 'nikah' was a private affair with mainly the presence of Pathan's family and friends, at Raey Road in suburban Mumbai, reported Mid Day.
The engagement ceremony was held last year at Pathan's farmhouse in Nadiad, Gujarat. It was an arranged marriage, reported PTI.
In 2009, the 30-year-old cricketer said that he believed in the idea of arranged marriages and that his parents were looking for a suitable girl. "The day they will find one, things will happen. But there is not fixed timeframe for it," he said.
Born and brought up in Mumbai, Afreen practices physiotherapy in Vadodara, Pathan's hometown. Pathan had revealed during the IPL 4 season that the ideal wife for him would be "someone who stays at home and look after parents and who can cook delicious food."
Pathan's younger brother and cricketer Irfan Pathan invited Gujarat Chief Minister Narendra Modi for the 'Dawat-e-Walima' wedding reception which will be held at Laxmi Vila Palace in Vadodara.
According to The Times of India, the royal family of Vadodara was also invited for the occasion. The reception will be sealed with a DJ night to celebrate the occasion.
Pathan has been out of the Indian team for some time. The big-hitting batsman is known for his aggressive batting style and for scoring big at crucial matches.
At the IPL auction last year, Pathan was the second most expensive player after West Indies player Kieron Pollard. Kolkata Knight Riders owners Shahrukh Khan and Juhi Chawla bid Pathan for ₹10 crore. He had previously played for the Rajasthan Royals.