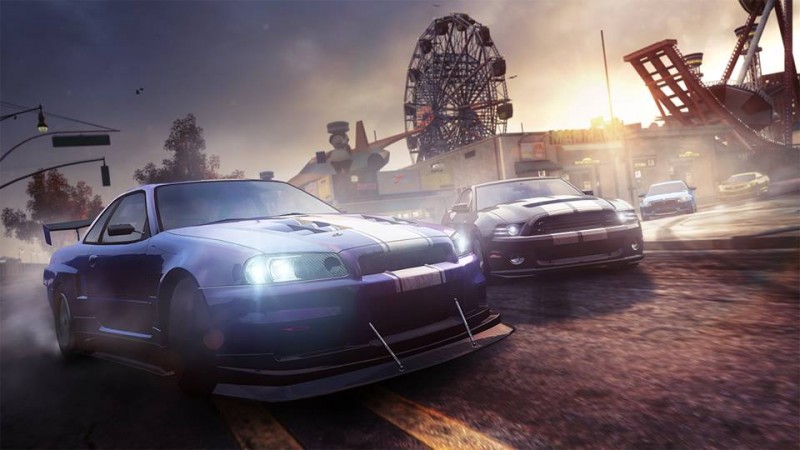 Ubisoft's latest offering for racing fans, The Crew, an online racing title that brings the famous open-world environment to its players. With its worldwide release, going as scheduled on 2 December 2014 was developed by Ivory Tower and Ubisoft Reflections.
Ubisoft has released the day one patch for The Crew that will bring new features like challenges and Faction War. The patch also brings a host of bug fixes touching aspects like matchmaking, connectivity, stability, performance, menus, HUD, PvP, DLCs, missions, achievements, awards and online.
Before players can start playing the new title, they have to download the day one patch, it must be noted. Ubisoft has said that this is a "small" patch and players should be able to download it quickly, provided the player has good internet speed.
The game will be mixing MMO elements with that of RPG. The title will allow players to take their in-game cars, and race them across the length of the US. It has been reported that the single player campaign is about 20 hours. In the single player campaign, players will get to play as protagonist Alex Taylor.
The Crew will also feature mini-games around the world. The game will allow players to infiltrate criminal gangs and the underground racing scene.
The game will offer players a variety of environment from New York City to Miami Beach to Monument Valley. It will also offer new terrain like asphalt, snow, sand, dirt and grass and it covers street, dirt, cross-country and circuit. The game will also offer a number of missions like Race, Outrun, Takedown, Follow, Get Away, Collect and Go To.
The Crew will also have a companion app that will be available on iOS, Android tablets and the web. In the multiplayer mode, the game will allow a maximum of eight players to compete. The game will not have any pauses or in-game loading screens.
The Crew is released on PC, PlayStation 4, Xbox 360 and Xbox One.
Below are the day one full patch notes for The Crew (Ubisoft):
Features
1. Drivehub challenges are activated.
2. Faction war activated. At the end of the month, the winning faction unlocks 2 bonus faction missions per region.
Bug Fixes
Stability and Performance
Fixed some random crashes on all game modes
Fixed an issue where some crews were disbanded randomly
Matchmaking, connectivity and replication
Fixed matchmaking and sessions problems
Fixed invite system in Private PVP game modes
Improved matchmaking and sessions on server side.
Menus and HUD
Fixed issues related to Leaderboards scoring on Missions and Skills
Updated info on HUD for Gift packs.
Resolved issues on Localisation bugs.
Fixes on Statistics computing values.
Fixes on PVP lobby HUD.
Fixed an issue where the "Mute" option was missing from player cards while inside a PvP lobby.
Fixed an issue where an infinite loading animation of the gamer card picture was happening.
Fixed an issue where the title shows the "Display" name instead of "Gamertag" for the active user inside the Leaderboards from the Driver ID menu.
PvP
Fixed an issue where leaderboard displayed incoherent scoring on PVP Public FFA events.
Fixed an issue where the collision' and 'Traffic' options were not functional within the lobby.
Fixed an issue preventing the HUD from refreshing when a crew member invites the crew master in a PvP public lobby.
Fixed an issue where the crew gets disbanded after coming out of PVP lobby.
Fixed the option to disable/enable voices during PvP events.
Achievements and Awards
Fixed Achievements unlocking issues
Fixed Awards progression and unlocking issues
DLC / ULC
Fixed issues related on unlocking the content after purchasing DLC/ULC packs.
Missions
Improved AI behaviour in some situations.
Fixes on HUD elements during missions.
Fixed an issue preventing some players to join a mission after a quick coop search.
Fixed an issue where some players in coop/solo missions where sent back to the log-in menu with a service error message.
Online
Fixed an issue where players couldn't join a session or a crew.
Fixed an issue where players could be missing from the crew list for other players in the same crew.
Fixed an issue that was preventing a player from entering a PvP lobby while in a crew of 4.
Fixed an issue preventing the world ghost record to load and instead of the "Online ID" text "UNKNOWN" was displayed for all the skills.
Fixed an issue where the game crashes when failing to connect to proxy.
Fixed an issue where the game goes into infinite loading screen after using "Quit" and after being idle in the game.
Fixed an issue where the PSN ID's fails to load on leaderboards and was shown as "Loading" and "UNKNOWN" text.
Fixed an issue where the crew was failing to update correctly after the crew master has removed his Ethernet/Signed-out/Shut down the console and logged in again.
Fixed an issue where the loading time after pressing any button in title screen may be up to 2 minutes long.
Fixed an issue where some users were not joining the crew after being invited.
Fixed an issue where after a forced back to log-in, the gamer-pic in the friend list couldn't load.