The line between crazy and ingenious is often very thin, and sometimes ideas that seem great in your head are better off there. On the other hand, then the world would have been deprived of these outrageously bizarre inventions that you didn't even know you needed until you saw them.
The Japanese are known for their ingenuity, their inventiveness and their love of the absurd. In fact, they even have an art form dedicated to absurd inventions that are useful and useless at the same time - Chindogu.
Hence, it would be quite unfair to not start off with weird Japanese inventions.
Subway Sleepers
Subway Sleepers are devices that allow you to sleep during boring subway commutes. The biggest hurdle this Chingdogu had to overcome was to rouse the sleeping passenger when the train reaches his or her destination station. For this very reason, subway sleepers now come with a message board that informs co-passengers when to wake the wearer. The device, however, does not guarantee the co-passengers' willingness to wake you up, though.
Flask Tie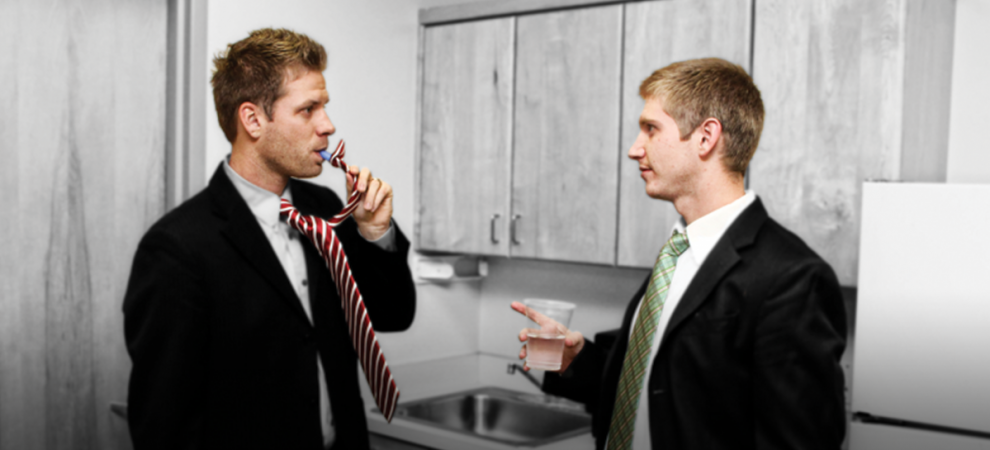 Flask Tie is the perfect accessory during endless meetings, while you are stuck in your cubicle, at funerals, church, weddings, fancy parties, or really just any time you want to look debonair and sneak in a drink. A real necktie designed to conceal your favourite beverage around your neck, Flask Tie allows you to be more stylish and less thirsty than your friends, guarantees the BAXBO team, who are responsible for this crazy product.
These innovative neck ties come in four kinds of knots and are so popular, about 100 million of them are sold per year.
Anti-Rape Dress / Vending Machine Disguise
Definitely ranking number one inventiveness department, the anti-rape dress or the vending machine disguise was designed by Japanese fashion designer Aya Tsukioka. Tsukioka's intention with the anti-rape dress was for women to disguise themselves as vending machines to hide from prospective attackers and rapists. Unfortunately, when the "vending machine" blows in the wind, the wearers' feet are visible.
Hairy Leg Stockings
The hairy leg stockings are described as "Super sexy, summertime anti-pervert full-leg-of-hair stockings, essential for all young girls going out," (translation by Bing) by Happy Zhangjang in the Chinese micro blogging website Weibo. Designed to help women ward off unwanted male attention, the hairy leg stockings are so life-like, and quite honestly, they are disturbing.
Hug Me Pillow
Hug Me Pillows are pillows that you can cuddle with on lonely nights. Complete with a prison uniform-like shirt, these pillows are designed to look like one half of a man's torso. This crazy product, which can be purchased at Overstock, not only offers comfort while sleeping, but also peace of mind. Moreover, its unique shape provides "firm sleeping support".
One of the customers has reviewed the product: "I'm told the pillow was modeled after Brad Pitt, and I believe it! When I first nestled against the soft, but firm chest of my new "husband" I slept better than I ever had before. Now I don't mind when my husband goes out of town!"