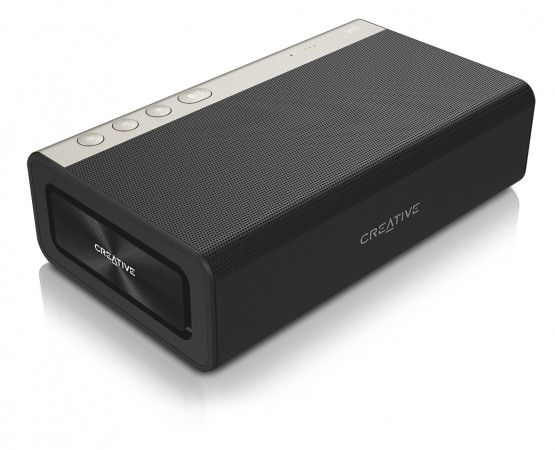 Creative, which made the Outlier Bluetooth headphones we reviewed earlier, has launched a Bluetooth speaker. The speaker, which the company calls the Sound Blaster Roar 2, is the follow-up to Creative's Sound Blaster Roar.
According to Creative, the Sound Blaster Roar 2 is a smaller and lighter version that retains the original speaker's "sonic DNA." The new speaker is apparently 20 percent smaller and retains the five-driver set-up found in its predecessor.
Placed horizontally, the speaker reportedly offers a stereoscopic aural experience, while the sound profile becomes louder and more directed when it is upright.
Apart from being a Bluetooth speaker, the Sound Blaster Roar 2 features two additional playback modes — USB and microSD card. The speaker can be plugged into a computer or a laptop via a micro USB to USB cable. The audio is played through the speaker once it is plugged in. This mode also allows users to use the SoundBlaster audio software that reportedly enhances audio quality.
With the selector switch flicked to microSD card mode, the speaker plays MP3 and WMA files stored on microSD cards. With the control panel found at the top of the speaker users can pause, play, skip songs, and even entire folders. The Sound Blaster Roar 2 doesn't just read files from memory cards: It can also write files on them and can be used to record audio files through the in-built omnidirectional mic.
Smartphones and tablets can be paired with the speaker with just a tap, thanks to NFC, and once the Bluetooth link has been established, the speaker, by virtue of being able to support aptX and AAC codecs, plays back high-quality audio. Creative also says two devices can be connected to the speaker simultaneously.
The speaker also features a 6,000 mAh battery, which according to Creative lasts up to eight hours while playing music and can also be used to charge other devices.
It carries a price tag of Rs. 16,999 and can be bought online exclusively through Amazon India from May 2016.