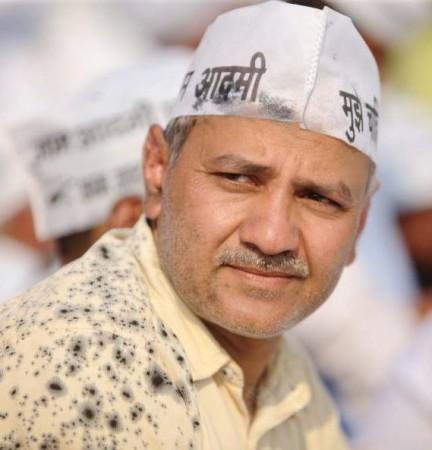 Voices of dissent are growing in the Aam Aadmi Party after the poll debacle in the 2014 Lok Sabha elections.
Last month, senior leaders Yogendra Yadav and Naveen Jaihind resigned from the party's Political Affairs Committee (PAC) and the national executive post, respectively.
On Thursday, differences of opinion in the top leadership of AAP surfaced with senior leader Manish Sisodia accusing Yadav of targeting chief Arvind Kejriwal and also slammed him for revealing internal matters to the public.
Clarifying on why he had quit the PAC, Sisodia, in a letter referred to the spat between him and Yadav and accused the latter of making the fight public and also for drawing Kejriwal into it.
"You have made the fight public and because it is not being handled in the way you would like, you are trying to draw Kejriwal into it. In fact, you have accused Kejriwal of not listening to the parliamentary affairs committee and acting like a party supremo. Your issues with Jaihind need to be sorted out but instead, you have made this fight public and tried to draw Kejriwal into it," Sisodia said in the letter, according to the Times of India.
The letter also revealed how Kejriwal backed Yadav's decision to contest from Gurgaon though majority of the PAC leaders opposed the move. Sisodia also mentioned in the letter that Kejriwal wanted to focus only on Delhi for some years, but Yadav and some other members of the party were in favour of contesting the elections across the country.
The senior leader also criticised Yadav for his incorrect survey in Haryana. "After our resignation from Delhi government, you got a survey carried out in Haryana in which AAP was getting 23% votes. But when under your leadership we managed to get only 3% votes a month and a half later, the party wants to know what happened. Instead of answering questions, you are trying to deflect attention to Kejriwal by accusing him of acting like a supremo," he said in the letter.
Following a dismal performance in the Lok Sabha polls, two of the prominent members of the AAP - Shazia Ilmi and GR Gopinath quit the party. On Thursday, two Maharashtra leaders Anjali Damania (AAP state convenor) and Preeti Menon (state secretary) announced that they are quitting the party. Just hours later, the leaders took a U-turn and withdrew their resignations, after they were assured of the formation of a transparent new state executive.
Anjali & Preeti are back!!! Volunteers were highly motivated & it seemed we are back to the earlier Josh!

— Mayank Gandhi (AAP) (@mayankgandhi04) June 5, 2014
Damania and Menon will be attending AAP's first national executive council meet in Delhi on Friday (6 June).