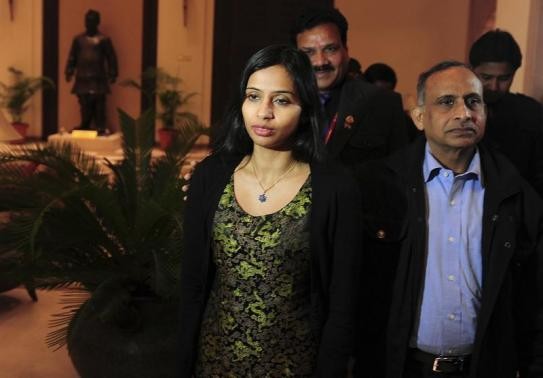 The United States has agreed to pull out an Indian envoy after he was expelled by the Indian authorities, while charges against former Indian deputy Counsel General Devyani Khobragade remain and an arrest warrant issued against her on Saturday.
The 39-year-old IFS officer, who was arrested in December on charges of visa fraud and misleading statements to US authorities, was transferred back to India on Friday with full diplomatic immunity after her indictment.
However, Khobragade, whose husband and children are US citizens, cannot enter US unless she faces trial regarding the criminal offences.
When asked if Khobragade will be denied a US visa if she applies for it, the State Department spokesman Jen Psaki said: "We wouldn't speak to or outright claim a denial of a visa...So if she is return - permitted - she is not permitted to return unless - except to submit to the jurisdiction of the court. She will be put on - her name would be placed in the visa and immigration lookout system that's, obviously, as people apply for visas."
Except the US immigration lookout systems, an arrest warrant was issued on Saturday against Khobragade who continues to deny the allegations posed against her.
"I want to thank my nation for the support they have given me. I have no comments, my lawyer and my government will speak for me," she told ANI.
While the diplomatic row was likely to be settled after Khobragade's return, it, in fact, further escalated after India expelled a senior American diplomat.
"We deeply regret that the Indian government felt it was necessary to expel one of our diplomatic personnel. I can confirm that a US official accredited to the (American) Mission in India will be leaving the post at the request of the government of India," Psaki said during a daily press briefing.
The unnamed Director-rank American diplomat was given a timeline of 'little more than 48 hours' to exit from India.
To which, Minister of External Affairs Salman Khurshid reacted saying, "There are certain issues of domestic laws and our understanding of consular rights. We will remain in conversation (with the US), will work on issues if needed. There is no standoff, no immediate concerns that might be particularly of any disturbing nature."
Even minister of state MEA Preneet Kaur agreed that the reciprocity of actions by India has been satisfactory. "I am happy that Devyani Khobargade has come home and that there has been reciprocity of actions," she said.