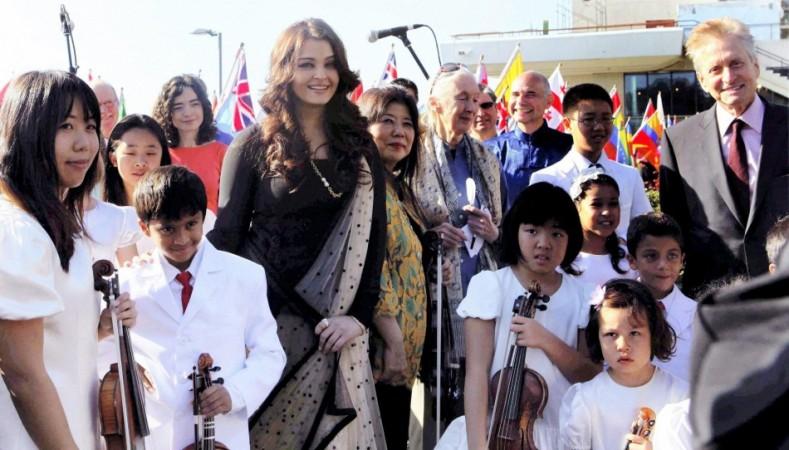 Hollywood diva Catherine Zeta-Jones, who is one of the most beautiful women in the world, can't stop praising former Miss World Aishwarya Rai Bachchan.
Aishwarya has received compliments from many people around the world for her beauty and the latest celebrity to praise her is Zeta-Jones, who herself features in the list of 'World's Most Beautiful People' and '100 Sexiest Women in the World'.
The Welsh beauty has not met the actress personally, but she has seen her photo with her husband and Hollywood actor Micheal Douglas. After looking at her pictures the 43-year-old actress confessed that she couldn't take her eyes off her, according to Hindustan Times.
"Michael recently met Aishwarya. I saw the pictures and she is just as he described her, beautiful," the Whelsh actress said.
Micheal Douglas and Aishwarya attended the International Peace Day at the headquarters of the United Nations in New York City in October.
This is not the first time Aishwarya recieved praises from the Hollywood elite. Brad Pitt and Jean-Claude Van Damme had also complimented on her beauty and also expressed their desire to work with her.
"She is one of the most popular actresses of Bollywood, who achieved huge acclaim in the west for her style, beauty and acting skills. I think we missed an opportunity to be cast together for the movie 'Troy," Pitt told IANS earlier during an interview.
The 39-year-old actress has represented India internationally and has worked in many Hollywood films like "The Pink Panther 2", "Bride and Prejudice", "Mistress Of Spices" and "The Last Legion".