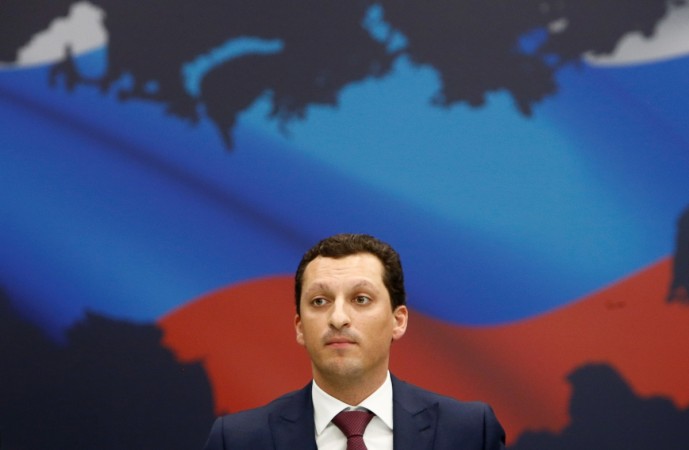 Russia's youngest billionaire Kirill Shamalov's marriage to President Vladimir Putin's reported secretive daughter Katerina Tikhonova was probably one of the most lavish and expensive affairs. And now, it looks like the couple's divorce is turning out to be much more costly, especially for Shamalov.
The 32-year-old is now losing almost half his wealth, which could be a punishment for the split, and he has also been demoted from his post as deputy chief executive at petrochemical firm Sibur, reported Bloomberg.
Thanks to the split, Shamalov is now back to being a senior executive at the firm.
Shamalov and Tikhonova tied the knot in 2013, but the businessman now seems to have moved on to Zhanna Volkova, a Moscow-born London socialite. In December 2017, the businessman's private Facebook page even featured an image of the Shamalov and his new girlfriend with a caption that read: "I Love you," the Telegraph UK reported citing a Vedomosti report.
However, neither his wedding nor his split with Tikhonova has been confirmed by Kremlin. Similarly, despite widespread rumours, Putin or his office have never confirmed that Tikhonova is the Russian president's daughter.
The duo's reported wedding was a lavish soiree at the Igora ski resort in the hills of St Petersburg. And people who were in attendance told Reuters that the couple rode in on a Russian sleigh drawn by three white horses. While Tikhonova is said to have worn a pearl tinted dress and Shamalov was equally dapper in a coat, the guests too were not far behind and sported white scarves embroidered with the letters "K&K" – for Katerina and Kirill – in red thread.
"Guards were behind every corner, (they) didn't let anyone close to the celebration," a staff member at the resort, told Reuters. "But we knew it was Kirill and Katerina – Putin's daughter – celebrating marriage."
All the guests were reportedly also sworn to secrecy.
Shamalov climbed the ranks soon after the nuptials and he acquired a large stake in Sibur, becoming its second-largest shareholder. The couple also owned a seaside villa in Biarritz, France, the value of which is pegged at about $3.7 million.
Speaking of the monetary losses, a source close to Shamalov also told Bloomberg that it had nothing to do with his marriage or split.
However, many Russians believe that Shamalov was taking a big risk splitting from Putin's daughter and there could be repercussions. "Shamalov must be have balls of steel," the Sun quoted a source, while another added: "He must be thanking God and all his saints that he is alive and free."