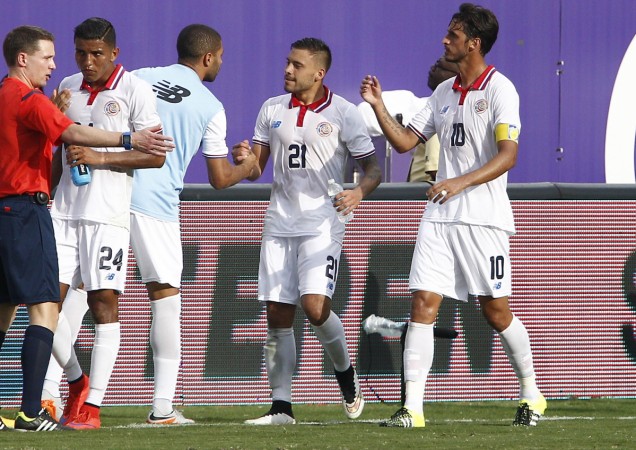 Former Manchester City striker Paulo Wanchope, who has been the coach of the Costa Rica national team until now, stepped down on Wednesday after being involved in a brawl during Costa Rica Under-23 team side's match against Panama in an Olympic qualifier at the Estadio Maracana in Panama.
Wanchope, 39, was reportedly frustrated with the refereeing decisions in the Central America Zone Group A match, which resulted in a goalless draw. The former West Ham striker lost his temper and angrily opened the stands gate on to the pitch and shoved a young ball boy standing beneath.
He also received a light shove from one of the men standing near him while he opened the gate aggressively, and Wanchope retaliated with a shove and a punch to the man.
And all hell broke loose soon after as the man started throwing kicks and punches at the Costa Rica head coach.
A day later, Costa Rica confirmed that Wanchope has decided to step down.
"Following a meeting, the manager Wanchope has decided to step aside," the Costa Rica Football Federation said in a statement.

They also mentioned that no action can be taken against Wanchope until all the details are heard.
"Responsible action requires that we compile as much information as possible so that we can have the best response," read the federation statement, which left open the possibility of sanctions.
Wanchope, on his part, apologised for the incident.
"First of all I want to send my apologies to all Panama for that incident, obviously Costa Rica also what happened to me have always characterized for defending the country and behave in the best way we can," he told Costa Rican daily La Nacion.
"We are human beings and react inappropriately to the position where I am and it is not possible between two human beings have that reaction. I learn from this, it is very hard and the important thing here is to ensure the welfare of the team. "
The daily has even gone on to call the incident "shameful".
Only a month back, Mexico fired their coach Miguel Herrera for allegedly punching a television broadcaster in a similar incident.