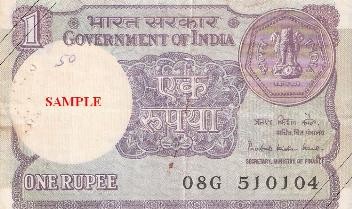 The cost incurred to print a one-rupee note is ₹1.14, the government has said in response to an RTI query.
Printing of one-rupee notes, which was stopped in 1994, was recently resumed by the Central government through state-owned Security Printing and Minting Corporation of India (SPMCIL).
"The cost of one rupee note is Rs 1.14 (provisionally and unaudited) as determined in accordance with the principle of costing and costing module," SPMCIL said, in response to the RTI query by activist Subhash Chandra Agrawal.
SPMCIL makes bank notes, coins, non–judicial stamps, postage stamps and other government documents.
The public sector undertaking said that the cost is under audit, NDTV Profit reported.
The government had stopped the printing of one-rupee notes in 1994 due to "high printing cost". In 1994, the last year of its printing, 44 million notes of ₹1 were issued.
SPMCIL also discontinued printing two-rupee and five-rupee notes, as their costs exceeding their value, Agrawal said.
Since then, the denominations have been made available in coins.
"However, the Union Finance Ministry subsequent to a gazette-notification dated December 16, 2014 ultimately re-issued one-rupee notes on March 6, 2015 at Shrinathji Temple (Nathdwara), Rajasthan," Agrawal said.
The one rupee note carries the signature of the Union Finance Secretary while other denominations bear the signature of the Reserve Bank of India (RBI) Governor.
Agrawal has demanded for a probe into the "retrogressive" move.
"Enquiry should be made if retrogressive step of re-issue of costly one rupee notes was taken so that signature of top bureaucrat of Union Finance Ministry may appear on these notes for becoming a historical feature in future," he said.