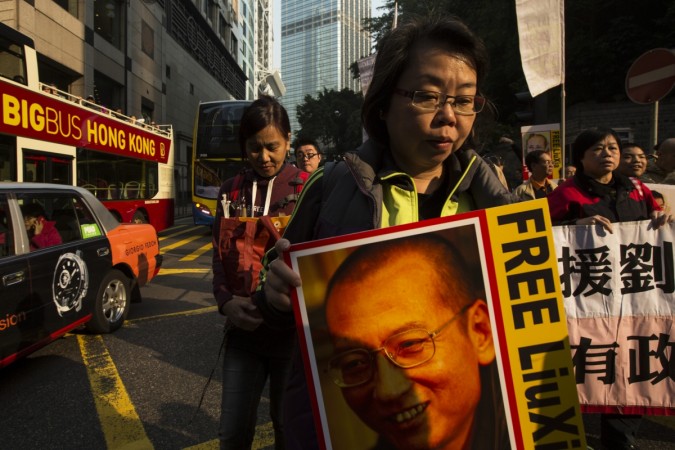 China has rebuked the United States over its human rights violations after the latter demanded the release of Nobel Peace Prize winner and dissident Liu Xiaobo.
China asked the US not to infringe upon its "judicial sovereignty and independence."
"We advise the US to reflect on and correct its own violations of human rights, instead of interfering in other countries' domestic affairs and judicial sovereignty and independence in the name of human rights," Foreign Ministry spokeswoman Hua Chunying said on Thursday, the state news agency Xinhua reported.
The stern reaction came after US Secretary of State John Kerry said in a statement on Wednesday that the US was "deeply concerned" about the incarceration of Xiaobo and his wife.
"Nobel Peace Prize laureate and writer Liu Xiaobo today spends the fifth anniversary of his conviction for "inciting subversion" in prison, serving out an 11-year sentence. The United States remains deeply concerned that China continues to incarcerate Liu Xiaobo and hold his wife, Liu Xia, in extralegal house arrest," Herry said in the statement.
Earlier this month, the US Ambassador to China Max Baucus had also called for the release of Xiaobo.
China had earlier lashed out at the US after the CIA torture report was released, highlighting several violations of human rights of terror suspects.
"While Beijing is performing self-examination on human rights, by stark contrast, an unabashed Washington is probably, as usual, being busy preparing for its routine accusations against others, while turning a blind eye to the gloomy reality on its own soil," China's state-owned news agency Xinhua had said.
Xiaobo took part in the pro-democracy protests held at the Tiananmen Square in 1989 that was crushed by the Chinese army. The government sent Xiaobo to jail for 11 years in 2009 on charges of subversion.