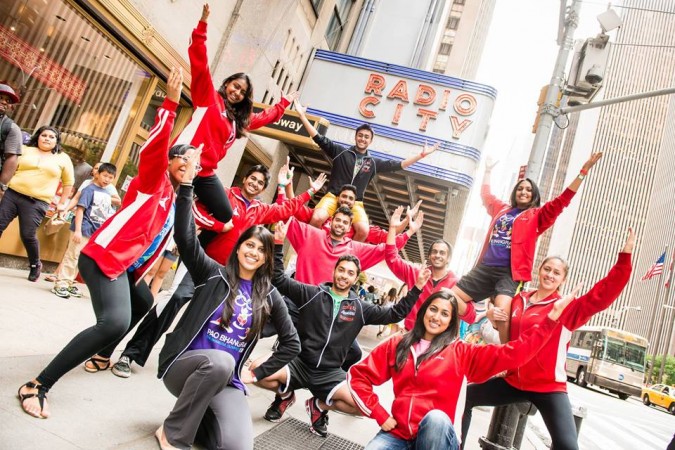 American talent shows are being overrun by South Asian crews, with the "Wanted Ashiqia" having secured a live performance on "So You Think You Can Dance" a few weeks back and now, the "Cornell Bhangra" has entered into the list of top 48 "America's Got Talent".
"Cornell Bhangra" team, a competitive dance team founded in 1997, recently performed a 60-second dance number on NBC's "The Today Show" in a segment called "Today's Got Talent". It is their performance in "The Today Show" that won them the votes to get to "America's Got Talent".
"Cornell Bhangra" is one of the most popular Bhangra teams in the world, even winning back-to-back championships at the "World's Best Bhangra Crew competition"- the biggest, most reputed Bhangra competition in America.
World's Best Bhangra Crew took to FaceBook to express their pride and happiness in "Cornell Bhangra" entering America's Got Talent with the post: "We would like to take this opportunity to congratulate Cornell Bhangra for making it to America's Got Talent. Our goal has always been to promote Bhangra to the WORLD... As our back-to-back champions, Cornell Bhangra has been a great representation of Bhangra and we wish them the best of luck. Thank you Cornell for making us and all those who #supportbhangra very proud...!"
Vinay Rajur, who has been a member of the "Cornell Bhangra" team for the past three years, told India New England, "Even on Cornell's campus, the team has made a name for itself by hosting its annual Bhangra showcase, "Pao Bhangra", which attracts annually over 2,500 students, faculty and residents from the surrounding areas, and is even featured as #56 on Cornell's notable list of 161 Things to Do while at Cornell."
Bhangra is celebratory expression of life and happiness to welcome spring and literally means, "intoxicated with joy". While the team members of the team come from disparate fields of study, these Cornell students share a passion for the unique Punjabi dance form. These students work hard to showcase this unique folk dance and spread love and appreciation for it across the world.
Unlike Bollywood, Bhangra is still a relatively unknown dance form trying to find some ground in mainstream America. And the good news for "Cornell Bhangra" is that due to a lack of Bollywood act on "America's Got Talent" this season, they might just fill in the quota and will not have to compete against a mainstream Bollywood crew.
The performance has been met with very enthusiastic feedback so far:
"Bhangra is my new favorite word. It means "intoxicated with joy" in Punjabi. So who wants to get Bhangra tonight? @CornellBhangra #AGT," tweeted Vicki Ringer.
"Feel the joy of @CornellBhangra again! #AGT http://youtu.be/svHUDVFGEyE " can't vote.....wish I could! this group rocks! #dance" tweeted Jenessa.
"They made a cultural dance really freakin' cool and many cultural dance acts can learn from them. I loved this so much more than I thought I would. And I liked their use of "Android Porn" by Kraddy. Fighting Gravity must have influenced that choice of music," commented jsghfmxopqazlfr on YouTube.
The team has also created an event page on Facebook: "Tune into America's Got Talent on August 12th at 9pm on NBC to catch Cornell Bhangra's performance! We need your support! Make sure you cast your votes after the show to keep Bhangra on the big stage!"
"Conrell Bhangra" requires votes to keep sharing new Bhangra performances on "America's Got Talent".
Vote for us and give us the opportunity to intoxicate you with happiness again! #VoteCornell

— Cornell Bhangra (@CornellBhangra) August 13, 2014
Watch Cornell Bhangra's 12 August Quarter Final performance on America's Got Talent: