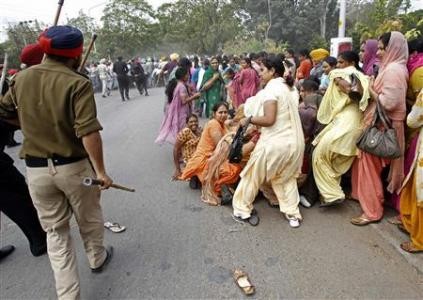 Two Punjab policemen were suspended by higher authorities for beating up a woman publicly in Taran Taran district on Tuesday.
The 23-year-old woman, who had come to lodge a harassment case against a drunken truck driver, was mercilessly beaten up by the cops in full public view. An onlooker recorded the entire incident on camera.
The woman had told CNN-IBN, "My father and brother went to talk to the truck drivers who were harassing me. The policemen standing there asked what was happening. Once they learned what happened they took the drivers' side and started beating us."
SSP Kanwal Singh Dhillon assured that the accused, Davinder Singh and Saraj Singh, have already been suspended and an enquiry will be begin in this matter, reported Zee News.
The incident fuelled reactions from several political heavy weights.
Congress leader Sunil Jakhad stated, "This is police brutality. There is no law and order in Punjab. Now (CM Parkash Singh) Badal has ordered an inquiry. Suspension and inquiry are not the cure for such things. It is just a reflection of how the Akali-BJP government is functioning. This is goonda raj in uniform," reported One India.
Meanwhile, Kiran Bedi vented her anger saying, "The video is evidence. They have got proof. They can take suo motu action."
Mamta Sharma, chairman of National Commission for Women remarked, "This barbaric incident took place when the girl went to the police for help, it is their duty to ensure that a judicial probe looks into the matter," and she demanded, "The state home minister must also resign."
Raj Kumar Verka, vice-chairman of National Commission for Scheduled Caste, called for a meeting with the SSP of Taran Taran, IG of Amritsar, the woman and her family on Tuesday noon.