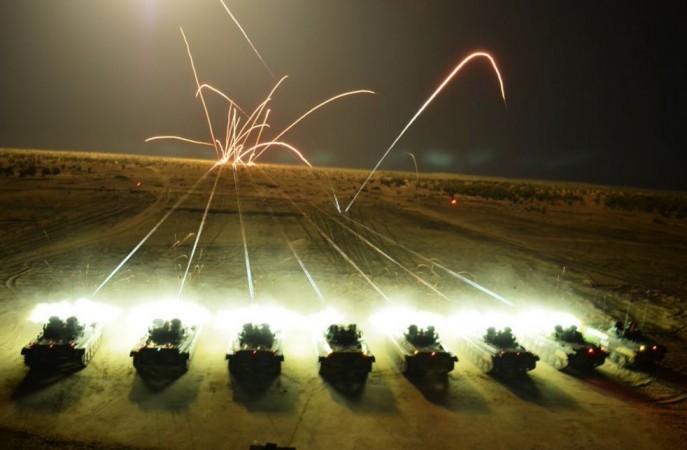 The Indian Army's search for assault rifle continues as it has yet again issued a fresh tender for "a 7.62mm x 51mm assault rifle with lethality to achieve the objective of shoot-to-kill" on September 27.
The Army decided to issue the new tender following the rejection of 5.56x45mm calibre Excalibur rifle that was offered by the Defence Research and Development Organisation (DRDO)-Ordinance Factory Board combine. Previous attempts have been unsuccessful due to the Army's unrealistic technical requirements and other reasons, the Times of India reported.
India has a 12 lakh strong Army which requires around 2.5 lakh rifles. It, however, plans to acquire 65,000 initially, with another set of 1.2 lakh being manufactured in India.
The current assault rifle with the majority of the infantry forces is the 5.56mm INSAS (Indian small arms system) rifle, which is prone to issues. The new rifle is expected to replace the INSAS.
The report cites the tender specifies light-weight rifles, which have an effective range of 500mts minimum with optimised recoil. The rifle must be compatible with visible laser-target pointers, holographic and other sights.
The rifle needs to be state-of-the-art in terms of design, metallurgy and performance parameters to be relevant for the future too.
The defence ministry is expected to float a formal global request for proposal (RFP) in April 2017. This would attract companies that participated in earlier bid, like Colt (US), Beretta (Italy), Ceska (Czech), Sig Sauer (Europe) and Israel Weapon Industries (IWI).
The report also noted the procurement process issues as the reason for holding up other projects like getting close-quarter battle carbines, light machine guns and sniper rifles.
Meanwhile, the Army also needs to address the issue of arms shortages on an urgent basis, speeding up the process and avoiding any slowdowns. Apart from the need to acquire new assault rifle, they also need to acquire anti-aircraft missile systems.
According to experts, in the event of a war on all fronts, the supply levels are so low that it will last for only four days. Nevertheless, new orders have been issued to help fill the ammunition stock, the Economic Times reported.