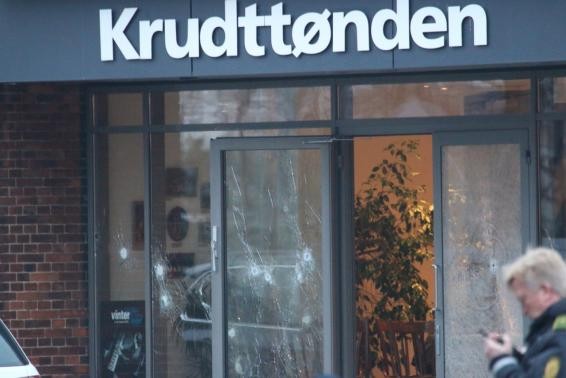 In two separate terrorist attacks in Copenhagen, two people were killed and five injured, after a gunman opened fire at a cafe and hours later at a Synagogue on Saturday.
In the first incident that took place at the Krudttoenden Cafe in central Copenhagen, the gunman killed one person and wounded three police officers. Police reports claim that the unidentified gunman dressed in a dark parka sprayed estimated 200 bullets through the glass windows of the cafe.
Swedish cartoonist Lars Vilks, who had been threatened with death for caricaturing Prophet Muhammad, and French ambassador to Denmark François Zimeray were participating in a freedom of speech debate hosted by the cafe. Both Vilks and Zimeray escaped unhurt.
The second attack took place at a Synagogue, about 5km from the scene of the first shooting, where one was killed and two injured.
A police spokesman said that they were looking for two suspects initially. However, based on eyewitness accounts, he said that there was only one sole perpetrator at both the crime scenes.
Police said the suspect was a tall, athletic man of between 25 to 30 years old.
Danish Prime Minister Helle Throning-Schmidt termed the shooting incident an assassination attempt.
"Everything suggests that the shooting in Osterbro was a political assassination and thus an act of terrorism," he said.
The twin shooting attacks unfolded with the gunman firing with an automatic on Saturday afternoon around 4pm local time at an event in the cafe.
The victim killed in the cafe is said to be a 40-year-old man, who was attending the debate.
Copenhagen Shooting: Twitter Updates
URGENT: Police asking people to stay indoors, Copenhagen 'not safe' as manhunt for shooter continues. pic.twitter.com/DcDkCFzpLA

— Israel News Flash (@ILNewsFlash) February 15, 2015
Copenhagen Shooter is likely heading for the Jewish museum to engage again at day-break. pic.twitter.com/Zra7WLzWVG — Jonathan Langdale (@jlangdale) February 15, 2015
MORE: Shooter is described of Arab background, spoke fluent Danish, head wrapped with a "scarf".. #Denmark #Copenhagen. - (@ColorMeRed)

— Israel News Flash (@ILNewsFlash) February 15, 2015
Spoke to a Copenhagen leader. City is under lockdown. People who were already in certain areas are stuck. Location of shooter unknown. — Yaacov Behrman (@ChabadLubavitch) February 15, 2015
I think the missing Copenhagen shooter is in the Assistens Kirkegård, hiding in the cemetary.

— Katy (@katy1434) February 15, 2015
Police reports claim that the unidentified gunman dressed in a dark parka sprayed estimated 200 bullets through the glass windows of the Krudttoenden Cafe in central Copenhagen