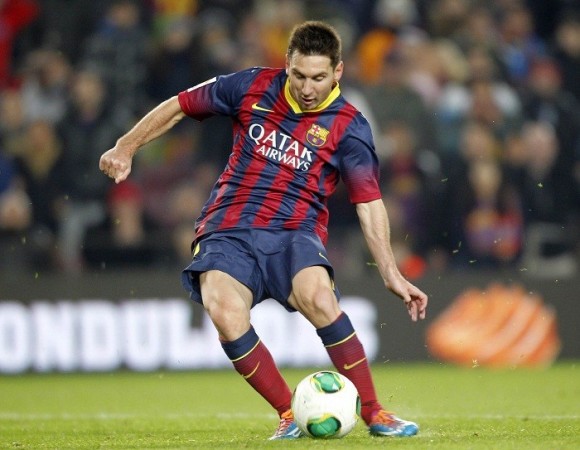 Lionel Messi did what he does best - score goals - on his return from a two-month injury layoff, helping Barcelona to a comfortable 4-0 win over Getafe in the first leg of the Copa Del Rey round of 16 encounter at the Camp Nou.
Cesc Fabregas had put Barca in a comfortable position with a brace, but Messi took all the plaudits with a double of his own after coming on as a second half substitute.
"His career is like a movie script," Barcelona manager Gerardo Martino said. "In three minutes he scored two goals."
Barca started on the front foot right from the off and it came as no surprise when the home side went into the lead on 9 minutes - Fabregas heading in a cross from Pedro Rodriguez.
There were no further goals in the first half, but Fabregas put the tie to bed on 63 minutes, slotting home from the penalty spot after Valera brought down Pedro inside the box.
A minute later, the crowd were roused to their feet when Messi was brought on in the place of Andres Iniesta. The little Argentine did not disappoint, looking his usual busy self in the 30 minutes on the pitch, with his scoring prowess yet again shining through.
Messi's first goal came in the 89th minute when he latched onto a loose ball, after Martin Montoya ran into a cul de sac inside the penalty area, before slotting into the bottom corner.
Not happy with just a single goal on his return, Messi added another in the third minute of stoppage time with a patented cannot-stop-me drive from the right before chipping the ball into the back of the net.
"It's clear that he hasn't forgotten how to play football," Barcelona skipper Carles Puyol told Antenna 3.
"He has been training very well and as you could see those are the kind of goals the best players can produce," the Spain defender added.
"There is a very long way to go in the league but it's a very important game [on Saturday] against what I think is one of the best teams in the world.
"Let's see what we can do and the important thing now is to recover well from tonight's efforts."
Messi's return and that too with a bang is an ominous sign for Atletico Madrid, who drew 1-1 with Valencia in their Copa Del Rey first leg, with the two top sides in La Liga clashing in a high-profile match on Saturday.
Results (round of 16 first leg): Racing Santander 1-1 Almeria; Alcorcon 1-0 Espanyol; Real Betis 1-0 Athletic Bilbao; Barcelona 4-0 Getafe. Tuesday: Valencia 1-1 Atletico Madrid.