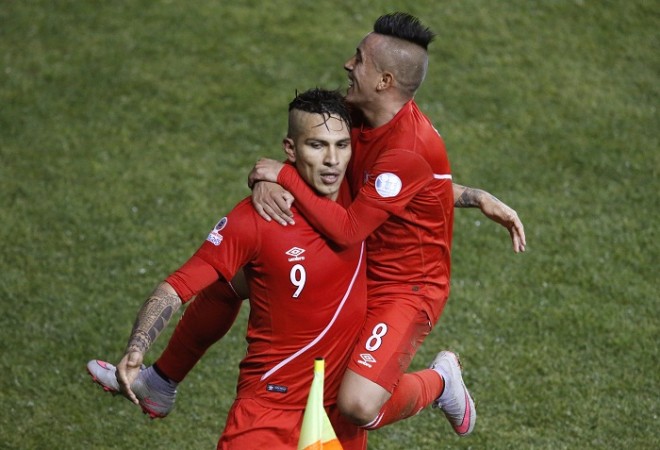 Paolo Guerrero was the hero, as a terrific hat-trick from the former Bayern Munich striker sent Peru into the semifinals at the expense of Bolivia in the Copa America 2015.
While the first quarterfinal between Chile and Uruguay was a tough, turgid affair, with very little to separate the two sides, this match was over after the 23rd minute.
Guerrero was the plaudit-taker, striking twice in the space of three minutes to virtually kill the game off, before adding another one in the second half. Bolivia pulled a consolation goal back from the penalty spot six minutes from time, but all that did was make the final score 3-1, instead of 3-0.
It could have been a lot sweeter for Peru as well, but the South Americans will settle for this result, and now the Clasico del Pacifico against Chile, their biggest rivals, awaits in the semifinals.
While Bolivia, the lowest ranked team in the quarterfinals, were not that poor, Peru were just clinical, finding the goals, via lethal counter-attacks, to end the contest in a few blinks of the eye.
Guerrero, currently plying his trade in Brazil with Flamengo, opened the scoring in the 20th minute, rising high and heading home past Romel Quinonez off a perfect cross from Juan Manuel Vargas.
The 31-year-old striker, who came for much criticism ahead of this match owing to his poor recent goalscoring record, then bagged a brace, by springing clear of the Bolivia defence, courtesy a pass from Christian Cueva, before calmly slotting the ball past the Bolivia goalkeeper Quinonez.
While Marcelo Martins almost cut the deficit in half at the half-hour mark, Peru could have easily gone into halftime with a much bigger lead, as Jefferson Farfan struck the woodwork twice.
However, those misses would not come to haunt Peru, as Guerrero completed his hat-trick on 74 minutes, with the penalty from Martins, after Ronald Raldes was brought down inside the box by Yordy Reyna, scant consolation.
Now Copa America 2015 hosts Chile await in the semifinals – the second straight semi that Peru have reached in the continental tournament – and, if the first quarterfinal against Uruguay was ill-tempered, the temperatures will be at boiling point from minute one for this sure-to-be-feisty semifinal.