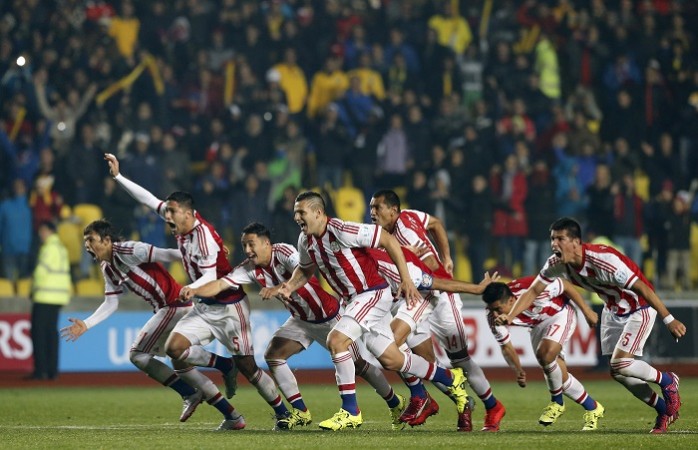 Brazil suffered a repeat of Copa America 2011 loss on Saturday as Paraguay edged past Brazil 4-3 in the penalty shootout.
Paraguay have unexpectedly secured a place in the semi-final stages of Copa America 2015, managing to set up a dramatic clash with the upbeat Argentina, who are clearly one of the favourites to win the title.
Dunga's men in yellow took the lead in the 15th minute in the first half of the match. Roberto Firmino (who recently signed a deal with Liverpool) let go off a low cross from Dani Alves from the right flank and Robinho was present near the far post to guide the ball inside the goal.
Shockingly, that was the only touch that Brazil got in Paraguay's box in the entire first half. This shows how Paraguay strongly held their defence line against the Brazilian attackers. But Brazil managed to hold on to the lead until 72nd minute when Thiago Silva handled the ball while battling with Roque Santa Cruz inside the penalty area. As a result, Paraguay was awarded a penalty and Derlis Gonzalez made no mistake as he found the back of the net from that spot kick.
The game ended in stalemate after the normal time and that meant a penalty shootoout was required to decide the fate. Phillipe Coutinho was creating all sorts of problems for the Paraguayan defence and he was one of the best in the match for the men in yellow. Similarly, Edgar Benitez too proved dangerous for Paraguay as he was responsible for creating a number of chances during the normal time.
Everton Ribeiro and Douglas Costa missed a penalty each for Brazil. Gonzalez's crucial final penalty pushed Ramon Diaz's men into the semi final of the Copa America 2015.
Watch the highlights of the match here.