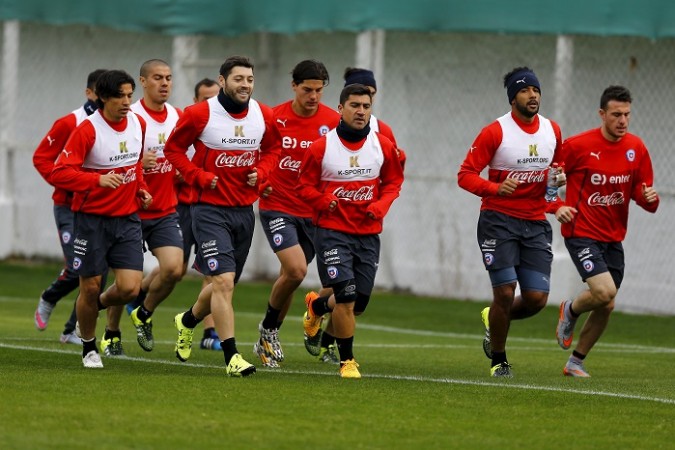 Chile will be taking on defending champions Uruguay in the first quarter-final of the Copa America 2015 on 24 June.
It has been a comfortable journey for hosts Chile so far in this tournament and they would want to make it to the last four.
Chile's head coach Jorge Sampaoli feels that the match against Uruguay is almost like a final for them. He said it will not be easy to beat the defending champions at this stage of the tournament because Uruguay have experience of playing such high-intensity matches and their defence line is pretty strong.
"I believe that the game for us is a final and it will be very complicated due to the opponents' characteristics. We will play against a team which knows how to play this kind of game. These are distinct matches with a mental factor. We cannot stand off. In this match Chile has to be on the front foot.
"We know what game we have to play, we know what we have to do collectively and we know that the oppontents intend to neutralise this characteristic. We played them recently in Santiago and saw that despite completely dominating the game we ended up losing," Sampaoli said at a press conference ahead of their clash against Uruguay on Wednesday.
Uruguay's campaign so far have been scratchy. They entered the knockout stages being the second third-best-placed team after the group stages. They are without the services of their star striker Luis Suarez as he is serving a ban imposed on him by FIFA.
On the other hand, Sampaoli's men in red have found the back of the net 10 times in just three matches and are looking far better than the big guns such as Argentina, Brazil and Colombia.
Sampaoli said they have a better chance than other teams as all his players have played excellent football so far and would look to deliver a similar performance in the first quarter-final against a rusty Uruguayan side and sail through to the semi-finals. One would believe that the host nation have an advantage over their opponents tonight as the crowd will be right behind the home side.
"The group is doing well, we know their capabilities and the difficulties we could have in this game. I really feel the desire that Chile has and because of this I think we have a great chance of reaching the next phase. I am convinced the team will play a good match tomorrow, beyond the result," Sampaoli said.
Sampaoli also urged Alexis Sanchez to step up to the plate and perform for his country. Sanchez has managed to score only a solitary goal against Bolivia. Meanwhile, Juventus man Arturo Vidal has scored three goals so far in this tournament.
"Alexis has to play an integral role for the function of the Chilean attack and has to impose himself with his skill and the form he is in," Sampaoli said.