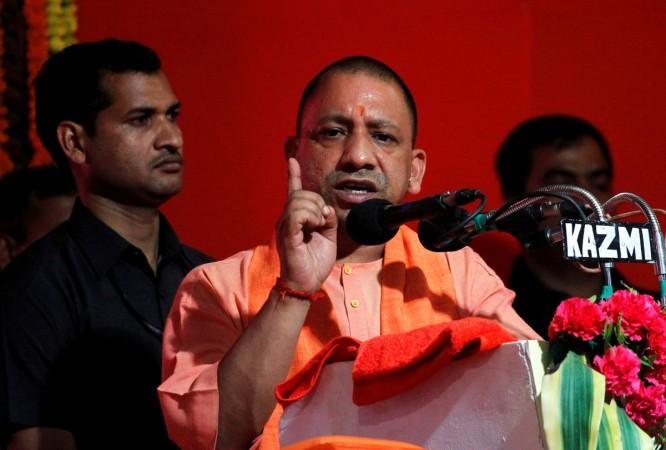 A police officer's photograph showing him seeking blessings with folded hands from UP Chief Minister, Yogi Adityanath, at Gorakhnath temple went viral on social media platforms such as Facebook and Twitter.
A photo was posted on Facebook by the police officer Praveen Kumar Singh himself, showing him sitting down on his knees in front of CM to seek blessings on Guru Purnima on Friday. Notably, there is another photograph too that shows Praveen garlanding the CM. In his FB post, the police officer said he went to seek blessings of CM Yogi, not because of his power and position but as the 'Mahant' and 'Peethadishwar' of the Gorakhnath temple. Interestingly, access to the officer's Facebook account was later restricted following an outcry among the FB users. Also, the post was later deleted by the officer.
Praveen, posted at Gorakhpur as the Circle Officer, was deployed at the temple for security duty. He went to meet Yogi after completing his duty. His picture triggered debate on social media, and while clearing his side on FB, Singh posted, "I was deployed at the temple for security duty and I went there after completing my work with full dedication, when most of the disciples were seeking blessings. Out of my devotion and after removing my belt, cap and other accessories and covering my head with a handkerchief, I took blessings of Peethadishwar Mahant Yogi Adityanath."
"My shirt was wet with sweat and I had not ignored my work. Mahant Yogi sits in the position of a guru on two occasions in the temple – one at the time of Dussehra and other on Guru Purnima. I always pray at the temple for serving the country honestly and with dedication. It was just out of my devotion towards Baba Gorakhnath and nothing else," news agency PTI quoted Praveen Kumar Singh as saying.
While reacting on the Singh's action, IG, Civil Defence, Amitabh Thakur (IPS) stated that the manual guide meant for police is not very clear on this account. "This is a grey area and can be interpreted either way. But, a police officer needs to uphold the dignity of his uniform," Thakur pointed out, as per the NDTV report.