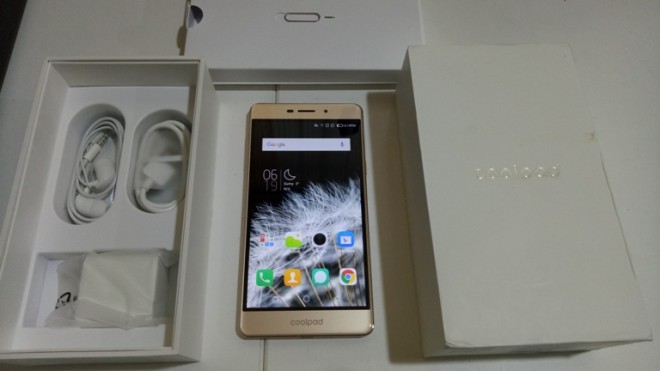 Coolpad introduced its latest smartphone, the Mega 2.5D, in India last month with prime focus on its selfie camera. The new handset follows the selfie trend that is driving consumers to choose their smartphones based on their camera capabilities. The Mega 2.5D also has many pros, but is not devoid of flaws.
We received the Mega 2.5D shortly after the launch and after using it for a month now, we have drawn several conclusions about the handset. Whether it is worth buying or not is a question we will be answering through this detailed review.
Before we get started, let's take a look at the key specifications of the Coolpad Mega 2.5D.
Display: 5.5-inch HD IPS screen with 2.5D curved glass
Camera: 8MP front and rear facing snappers
Processor: Quad-core MediaTek MT6735P CPU
RAM: 3GB
Storage: 16GB expandable
Battery: 2,500mAh
Software: Android 6.0 Marshmallow based CoolUI 8.0
Add-ons: Dual SIM, 4G LTE, VoLTE
Price: Rs. 6,999
At this price, Coolpad Mega 2.5D is clearly one of the best looking devices and has some interesting features. When it comes to competing against one of its own branded smartphones, the Mega 2.5D misses out on some important elements. We will be covering that in detail in our review.
Design and display
Coolpad has a come a long way since its first budget smartphone in India Coolpad Note 3 in terms of design, and Coolpad Mega 2.5D is a sign of that. The Mega 2.5D sports a stylish and a premium look, which leaves a lasting impression.
The handset is sleek, light and surprisingly comfortable to hold despite its 5.5 inch display. The rear panel has a matte finish with an arc-like design to offer better grip. The sides are flat with two shiny lines running all around the device to add value to the design. The display has a 2.5D curved screen and is elevated from the phone's panel to give it an edge-to-edge look.
There are no physical buttons on the display, but the lock/power button sits on the right side and the volume controls take the left side panel. A 3.5mm headphone jack is found at the top and a microUSB slot for charging is at the bottom. Overall, Coolpad Mega 2.5D's design is appealing and more than what we expected at this price range.
The display is bright and vibrant despite it having just a 720p resolution. The handset makes sure it adjusts the brightness based on your surroundings accurately and we rarely had readability issues in the night or even at broad daylight. As for the touch, we felt the handset had some blind spots, especially around the corners, from where it failed to respond immediately. The capacitive touch buttons are integrated within the display for quick access.
Camera
Coolpad Mega 2.5D is touted as a selfie-centric smartphone, but it is nothing out of the ordinary. For its price, the camera performance is just right. We tested both front and rear cameras and found it suitable for shooting landscapes rather than macro shots. The handset suffered with close object focusing.
The Mega 2.5D comes with interesting photo editing tools, which gives it an edge over rivals. But Android users have plenty of photo editing apps, which can be downloaded for free. Coolpad Mega 2.5D has beauty settings integrated within the camera, allowing you to edit before shooting. The camera has a special night mode, beauty mode and a pro mode, which gives your photography skills a boost. Without these extra modes, the handset's camera is average.
The camera UI is simple and same as the other Coolpad smartphones. It is intuitive, snappy and manual focus works better than AF.
We shot some photos using Coolpad Mega 2.5D to show how it performs under various settings. Check them out below:
The results show that the Mega 2.5D lacks details and true colours. It works fairly well under well-lit conditions, but pixelates the image under low-light conditions.
Performance
Coolpad Mega 2.5D has some impressive statistics. Although we did not suffer any lags or crashes during our entire review period, all Coolpad smartphones have delivered similar performance. This is a good sign.
Coolpad has tweaked the UI a bit to welcome some new standards, and we love it. The quick access to settings such as Wi-Fi, Bluetooth, Flight Mode, and more can be accessed by swiping the notification window from the bottom while the regular notification window, which slides from the top, shows your regular emails, messages and missed call alerts.
The theme store is another interesting addition, which lets you change the phone's look entirely. The settings option lets you access various options to adjust virtual key setting, control centre, smart control, display tuning and more. Everything is in the front and centre and there isn't any trouble finding what you need.
We tested the phone with games, music, videos, streaming and browsing, and we would always find at least 1GB free to make sure multi-tasking is at ease. Keeping multiple tabs open at all times did not hinder the performance in any way. In fact we have some benchmarking test results to prove that.
Battery
Unlike most phones in its price range, Coolpad Mega 2.5D features a 2,500mAh battery, which is quite small. But the handset challenged our expectations to last long enough. With mixed usage of daily calls, messaging and internet usage (including apps and browsing), the handset lasted a full day. With extensive camera usage and high internet browsing, the Mega 2.5D lasted about 7-8 hours, which is quite impressive.
The only thing we missed is the charging time, as it takes almost two hours to fully charge the device. If only Coolpad had integrated fast charging technology or increased the charging speed at the very least, it could top off most rivals.
Connectivity
Coolpad Mega 2.5D is one of the cheapest handsets to support 4G LTE and VoLTE. It has dual SIM slots and only the first one supports 4G, while the secondary slot is limited to 3G bands. It doesn't have a dedicated microSD card slot, which means users must choose between either a secondary SIM or an external storage, which is essential since there is only 16GB on board.
Conclusion
Coolpad Mega 2.5 has some strong points such as good design and display, average camera, reliable battery life and decent performance. A complete package for budget smartphone shoppers, but when we pit it against the incumbent rivals, it may not be the first consumer choice. Comparing against its own Coolpad Note 3 Lite, the Mega 2.5D lacks a fingerprint scanner.
The Mega 2.5D's design is a strong USP, but rest of the features are not compelling enough for buyers to upgrade to this device. It is certainly a good choice for first time smartphone buyers, but again there are plenty fish in the pond.
Pros

Good design
Vibrant display
Reliable battery
4G LTE with VoLTE

Cons

Average camera
Decent performance
No dedicated microSD card slot
No fingerprint scanner