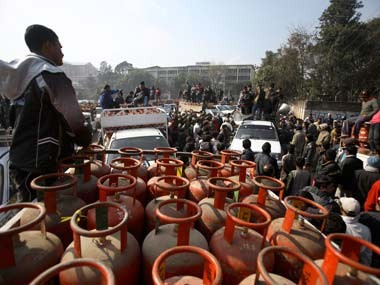 The governmnet of India on Saturday hiked the cooking gas cylinder price by Rs.11.42 just a few weeks after the price of diesel was hiked, causing a huge stir across the country.
The hike in LPG cylinder price came following a decision to raise the commission paid to the dealers.
The latest reports also hinted that the petrol and deisel prices will see another hike as the Oil Ministry plans to raise the commission paid to petrol and diesel dealers.
The Oil Ministry has issued the order to hike dealers' commission from Rs.25.83 per 14.2-kg cylinder to Rs.37.25 on Friday, according to the Press trust of India report. The latest hike came after the goveremnent decided to restrict subsidized cylinders to six in a year per household.
With the implementation of the hike, the consumers in Delhi will now have to pay 410.42 for each subsidized cylinder. Similarly, the price of the non-subsidized cylinder also has been hiked by Rs. 12.17 to Rs. 38 per cylinder, which means a cylinder will now cost Rs.921.5.
The National Federation of LPG Distributors of India (NFLDI) had earlier asked for a uniform LPG pricing across the country.
"The distributors who were already struggling due to the menace of dual pricing, inadequate commission, ineffective cylinder seal, forced VIP off-takes and supply system that is not fool proof, are now being forced to except the newly implemented triple rate policy without giving adequate commission," CNN IBN Live quoted NFLDI's press statement.
It is also reported that the Oil Ministry is planning to hike commissions paid to petrol and diesel dealers, suggesting that petrol price could be hiked by Rs.23 paisa to Rs.1.72 per litre and diesel by Rs.10 paisa to Rs 1.01 per litre.