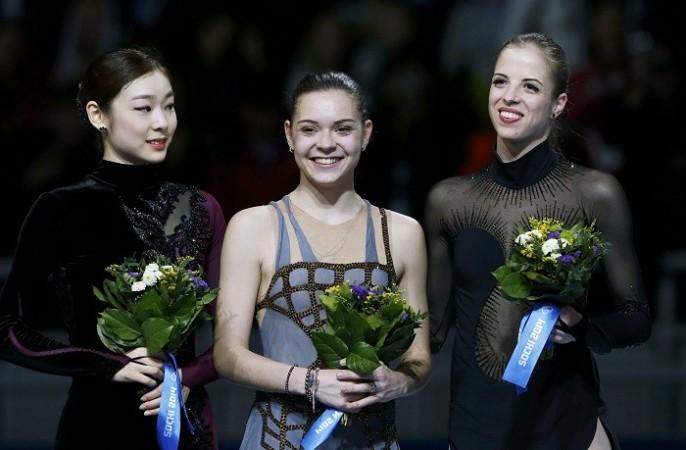 The figure skating free program gold medal was taken home by Russia's own Adelina Sotnikova but with much controversy as the defending champion Yuna Kim from Korea stood second. Italy's Carolina Kostner made it to the podium with a bronze medal.
Judges were blamed to have favoured the emotion that ran through the arena. The home crowd cheered aloud as their countrywoman jumped and turned with much grace in the middle. Yuna Kim's performance also saw much cheer but understandably lacked the emotional charge Sotnikova's performance received. At the end, results were up and Sotnikova ended up winning.
"I really didn't believe my eyes, frankly speaking," said the 17-year-old Sotnikova.
Many competitors like Ashley Wagner of America raised their voice, calling it an unfair decision. The American stood sixth and seemed to be in an unbiased position for she had no chance of getting close to the podium in Sochi.
"I feel gypped," she said. "People don't want to watch a sport where you see people fall down and somehow score above someone who goes clean. It's confusing, and we need to make it clear for people.
"They need to get rid of the anonymous judging. There are many changes that need to come to this sport if we want a fan base, because you can't depend on this sport to always be there when you need it.
"The crowd was very supportive of the Russians, so to be a Russian figure skater must have been absolutely incredible to get out there ... period."
There was controversy in the 2002 Olympics regarding the judgement process and many changes have been made to accommodate objectivity in the sport. While fellow South Koreans were stunned to dismay about the judgement this time around, the performer in the limelight preferred to take a politically correct stance.
"The scores are given by the judges so I'm not in the right position to comment on it. There's nothing that will change with my words," Kim said.