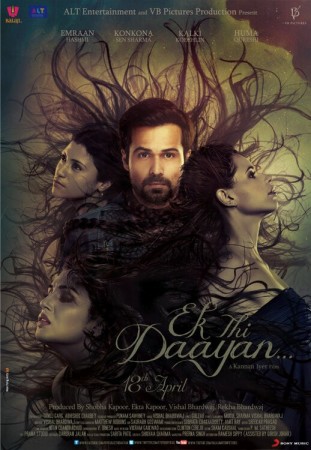 Ekta Kapoor and Vishal Bhardwaj's upcoming film, "Ek Thi Daayan" has landed them in trouble for allegedly showing women in a bad light.
The television queen has been called upon by the National Commission for Women (NCW) to explain her stand on a complaint that alleges showing women in regressive roles in "Ek Thi Daayan."
Ipsita Roy Chakraverti, a Wiccan priestess based in India, has filed a petition to the President asking him to ban the film. On receiving directions from the President's office, NCW has summoned Ekta as well as Vishal Bhardwaj, who is co-producer of the film.
"We have issued a notice to Ekta Kapoor after a complaint filed by Ipsita Roy Chakraverti who has taken offence with the way witches are allegedly portrayed in the film. She has been asked to be present before the commission on April 9," a leading daily quoted NCW chairperson Mamta Sharma as saying.
"It is quite obvious from the trailer that the film seems to encourage witchcraft which is not considered good for the society. Today's generation does not know of witchcraft and I don't think we need to educate the youngster on something that is not considered right by the society," she added.
Ekta and Vishal have to appear before the commission next week. Based on their explanation, the commission will decide whether to watch the movie before its release.
"Ek Thi Daayan" stars actor Emraan Hashmi in the lead role. Three popular actresses, including Konkana Sen Sharma, Huma Quershi and Kalki Koechlin, feature in pivotal roles.
The movie directed by Kannan Iyer is about a witch and a magician, which is based on a book written by Konkana's father Mukesh Sharma. The film's first poster and trailer have already evoked much curiosity from moviegoers.
Ekta, who is known for using unique marketing strategies to promote her films, has found an innovative way to promote her film. She started a 16-episode spooky television series titled "Ek Thi Naayika," which will have popular television actors including Sakshi tanwar and Smriti Irani promoting the film through the series.
"Ek Thi Daayan" is expected to get released on 18 April.