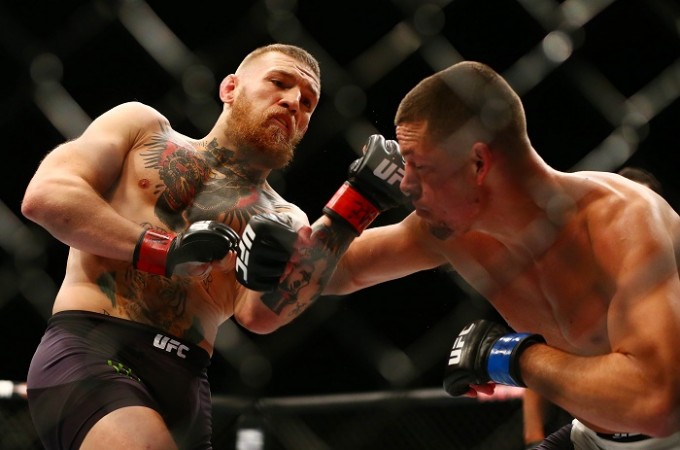 UFC Featherweight champion Conor McGregor's father, Tony, has stated that his son was ready to fight from the day he was born. Conor last fought against Nate Diaz inside the octagon at UFC 196 and is set for the highly-anticipated rematch at UFC 202 on Aug. 20.
One of the most prominent faces in the world of Mixed Martial Arts (MMA) at the moment, the 27-year-old has steadily risen to become one of the top UFC A-listers. Conor says that he has a masters degree in unarmed combat, something his dad agrees with.
"His fists were clenched coming out of the womb so he was ready to fight," McGregor Sr. said jokingly during an interview with the Ireland edition of Independent. "The midwife said, 'This fella is going to be a boxer.' It was an easy birth as Margaret [Conor's mom] was only in labour for an hour, so Conor was in a hurry to make himself known."
Tony McGregor also added that he never fathomed his son would have such a meteoric rise in the MMA circuit that would also see him hold the UFC championship one day.
"[MMA champion?] Never," McGregor Sr. continued. "It could have been a train coming out of a tunnel, but I didn't see it whatsoever. I didn't approve of Conor's job choice initially, because I just couldn't see the career in it, but I'm bang on board now and have been since well before the UFC. He was able to prove me wrong, which has made me so proud.
"We didn't see much of the personality he has now when he was growing up. That developed with age and is a sports persona that goes with the package. I find it very entertaining," Tony explained.
Conor has been undergoing gruelling training ahead of his rematch with Diaz. Last time, Diaz, the experienced of the two, came out victorious after connecting the Irishman with a perfect rear naked choke in the second round of their fight in Las Vegas.
McGregor has been posting videos of his training on Instagram as well as giving updates on the routine he has been following to prepare for the upcoming fight.