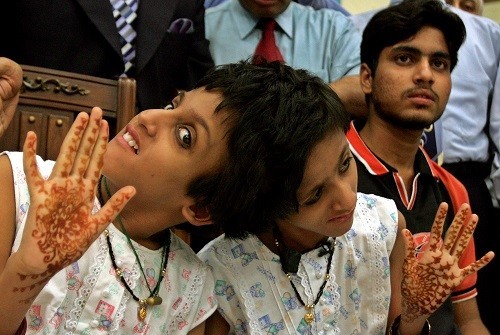 Conjoined twins Sabah and Farah are fighting for their lives in a leading hospital in Patna.
The 17-year-old girls, who have been suffering from various health complications from the last few days, were rushed to the Udayan Hospital on Saturday after their health deteriorated. "Farah has been bleeding from the nose from the past five days with some respiratory tract infection and the blood pressure of both the twins is low. We are still evaluating the cause of the bleeding and a multi speciality team is having a look," Dr Shyam Sundar, told Zee News.
Sabah and Farah were born to this world, joined at the skull, sharing an important blood vessel in the brain and depending up on a single pair of kidneys that Farah possessed. Due to the circulatory overload on her kidneys, Farah has been suffering from high blood pressure and had complaints of aortic valve (one of the four valves of heart) leaking for the last few years.
The girls' condition received international attention in 2005 and Crown Prince of Abu Dhabi, Sheikh Zayed bin Sultan Al Nahyan came forward to help the family by bearing the huge cost of ₹4.25 crore involved in the surgery. However, the girls have been living joined together, as their parents, concerned about their daughters' lives refused to operate on them.
Sabah and Farah belong to an eight-member family in Patna, supported by their father Mohammed Shakeel, who earned a living from his tea stall. However, as they grew older, health-related discomforts, particularly severe headaches and joint pain, became part of their daily lives. The girls also started exhibiting difficulties in communicating verbally. Unable to witness their children's pathetic condition, in 2011, Shakeel requested Indian government to carry out mercy killing.
In April 2013, the Supreme Court, decided to go against the parents' wishes and announced its decision to adopt the twins and ordered the Bihar government to bear the children's medical expenses.