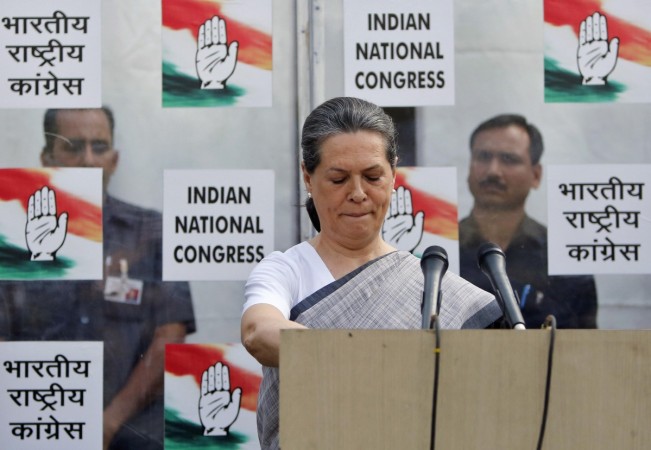 Though the Indian National Congress party has just 44 seats in the Lok Sabha, less than one-tenth of the total strength of the Lower House, party chief Sonia Gandhi wants to be the leader of the Opposition, and has expressed it to Speaker Sumitra Mahajan in a formal letter on Thursday.
Gandhi has written that the rule of one-tenth strength necessary to form the Leader of Opposition has become redundant, and since the Congress is the largest party in opposition to the ruling Bharatiya Janata Party, it should be elevated to the status of Leader of opposition, reported India Today. Congress had appointed Mallikarjun Kharge as its leader in the Lower House.
Gandhi evoked the Salary and Allowances of Leaders of Opposition in Parliament Act, 1977, in her letter, which, as per a legal website, states that the Leader of Opposition is the leader of the party with the highest numerical strength in the Opposition.
"'Leader of the Opposition', in relation to either House of Parliament, means that member of the Council of States or the House of the People, as the case may be, who is, for the time being, the Leader in that House of the party in opposition to the Government having the greatest numerical strength and recognised as such by the Chairman of the Council of States or the Speaker of the House of the People, as the case may be," reads the definition.
Gandhi's move comes after Congress leader and former Law Minister Veerappa Moily had last month also invoked the same 1977 Act to demand that Congress be made the leader of Opposition, reported PTI.
Moily had said that the norm of one-tenth strength had only "evolved" due to practice but was not binding on a party to be the leader of opposition.
With Congress' debacle in the general elections, it was widely reported that the Lower House would not have a Leader of Opposition at all.
The Congress party has also reportedly not set the right precedence when it comes to letting parties become leader of opposition. The Lok Sabha functioned without a Leader of Opposition for the first five terms between 1952 and 1977 when the Congress had majority.