Just a day after Rahul Gandhi alleged that the Rashtriya Swayamsevak Sangh (RSS) discriminates women and was slammed for the same, the Congress vice-president is back in news for a rather embarrassing gaffe that he committed during his Gujarat visit.
As BJP slams Rahul, RSS demands apology from Congress VP over remarks on Sangh women
Rahul accidentally entered a ladies toilet in Chhota Udaipur district on Wednesday.
Couldn't read Gujarati
Rahul was in the district for his 'Samvad' event, wherein he interacted with youngsters. Though the event went well, Rahul, on his way out of the town hall, stepped into the ladies toilet.
It is being considered an accident as there was no sign differentiating the ladies loo from the one meant for men.
However, a poster in Gujarati at the entrance of the ladies toilet said 'Mahilao Mate Shauchalya', which means ladies toilet.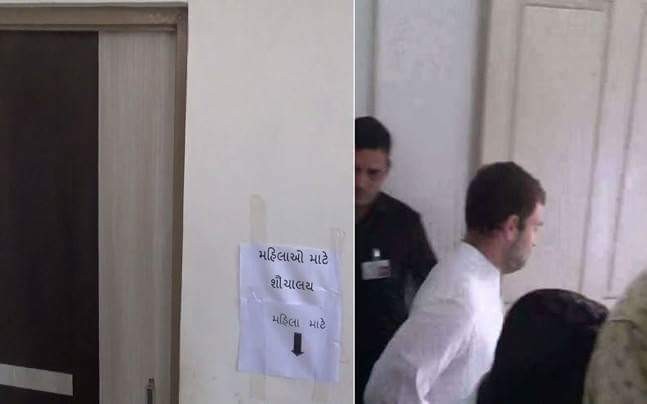 According to India Today, sources said that Rahul entered the ladies toilet as he could not read Gujarati. The report also added that locals at the venue said that the moment Rahul came out of the toilet, the people standing outside burst into laughter. The hilarious scene was recorded by a few of the mediapersons present there.
Following the incident, the Special Protection Group (SPG) that was accompanying Rahul dispersed the mediapersons, who on hearing about the incident started gathering outside the loo.
A house on the moon
However, Rahul, who did not speak anything about the incident, took yet another jibe at Prime Minister Narendra Modi on Wednesday evening.
This time, Rahul took a dig at Modi and accused him of making false promises to people of Gujarat. He said that the next promise Modi might make to the people of Gujarat is that he will give them a rocket each to ferry them to Moon.
His jibes did not end there. In a tweet, Rahul said that Modi might promise the people of his home state a house on Moon by 2028, and in fact, might just say that he would bring Moon to Earth by 2030.