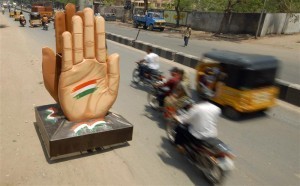 Terming BJP-led NDA's move to remove governors, who were appointed by the previous UPA government as a "political vendetta", senior Congress leader Gulam Nabi Azad on Tuesday warned of serious repercussions to the act.
Azad, who is the Oppostion Leader in Rajya Sabha, described NDA's move as a "dictatorial step". He stressed that the Union government does not have the brief to dismiss governors in an arbitrary and capricious manner with the change of power.
Azad reminded the government about Supreme Court's May 2010 judgement in this regard. In a statement, the Congress leader also said that the NDA, instead of fulfilling the promises it made to the prople, was indulging in political vendetta.
The government's idea of removing UPA-appointed governors is against the very grain of democratic traditions and constitutional propriety, the Congress leader added.
Azad pointed out that if at all taken forward, the mo will be "fraught with serious repercussions and have a debilitating impact on our constitutional democracy."
The former Union minister's statement comes in the wake of reports that the government has asked a number of governors, appointed during the UPA regime, to quit.
The Union government has reportedly asked the following governors to submit resignations:
Dewanand (Triupura), K Shankara Narayanan (Maharashtra), DY Patel (Bihar), Margeret Alwa (Rajasthan), M K Narayanan (West Bengal), JP Patnaik (Assam), Jagannath Panda (Haryana), Kamla Beniwal (Gujarat), K Rosaiah (Tamil Nadu), Shiela Dikshit (Kerala) and HR Bharadwaj
(Karnataka).
As per reports, the Karnataka and Assam governors are said to be defiant to comply with the Centre's diktat.
However, Andhra Pradesh Governor ESL Narasimhan has been given the additional charge of Telangana by the NDA government itself. Hence, Narasimhan may not be asked to step down.
"Leaders who desertedCongresslead a life of slaves in other parties"
Meanwhile, Andhra Pradesh Congress Committee (APCC) president N Raghuveera Reddy has stated that Congress leaders who left the party to join other parties in the state before the last elections are living like slaves without any freedom and individuality.
Reddy slammed the leaders who left Congress in a critical period. The APCC president was addressing the party's election review meeting in Vijayawada on Tuesday. He said that the leaders benefited and enjoyed power while Congress was ruling in Andhra Pradesh. But they deserted Congress and joined other parties at a critical stage.
Several Congress leaders left the party to join the likes of TDP, YSRCP and others, before the last Lok Sabha and Assembly elections. Reddy called upon his partymen to work and bring back the past glory of Congress in the state. Congress had faced a debacle in AP in the elections following the UPA government's order to bifurcate the state to create Telangana.
Reddy reminded the party workers that people in AP voted the party to power for decades. He said that he had also informed AICC vice-president Rahul Gandhi about the situation at the time of elections itself.