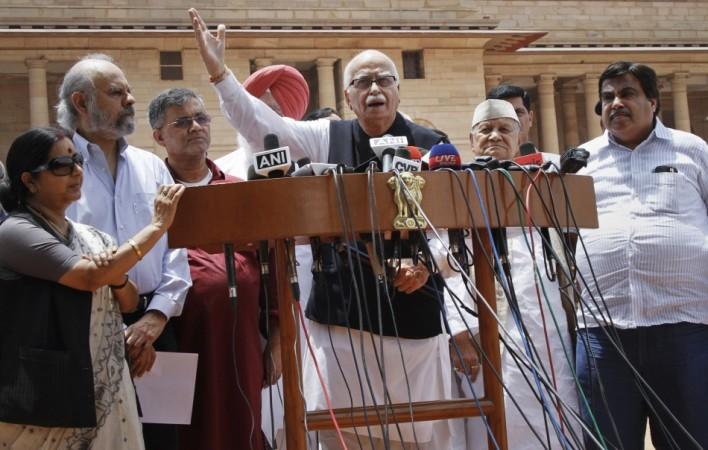 UPA government's big-ticket reform on allowing Foreign Direct Investments (FDI) in the multi-brand retail sector was once considered as an 'anti-national' decision by the Congress itself during NDA's rule in 2002, said Bharatiya Janata Party (BJP) senior leader LK Advani on Sunday.
Raising several questions on the alleged double standards of the ruling party on FDI, Advani provided in his blog a few transcripts of a communication between senior Congress MP Priya Ranjan Dasmunshi and then Minister of Commerce and Industry Arun Shourie at the time when FDI first surfaced during BJP-led NDA rule.
Advani said that UPA rolled out the red carpet for supermarket chain Walmart, a despised retail player in the US itself. "On June 1, hundreds protested in Washington DC against Walmart."Say-No-To-Walmart" is an ongoing movement all over the United States," Advani wrote.
Here's Advani's full blog on FDI and Walmart:
This issue of FDI in retail once occasioned sharp exchanges between BJP and Congress when the NDA Government was in office. This happened on December 16, 2002.
A leading Congress M.P., Shri Priya Ranjan Dasmunshi, referred to an Economic Times article which had written that on the issue of FDI in retail, the Planning Commission in its draft document of the Tenth Plan had affirmed that FDI was required in this sector, Dasmunshi said that through bureaucrats, "multinational retailers are continuously putting pressure on the Government to take this anti-national decision of allowing foreign direct investment in the retail trade."
Dasmunshi added that Government had appointed a Group of Ministers to lay down the limits of FDI. This GOM had rejected the concept of FDI in retail trade. Later a Task Force of the Planning Commission on Employment also, he said, categorically advised against it on the ground that it would aversely affect employment.
Dasmunshi said: Sir, the Commerce Minister is here. I request him to clarify the position and let it go on record.
Arun Shourie who was Minister of Commerce and Industry at the time immediately stood up to say: Sir, the existing policy since 1997, as you know, and the Hon. Member knows, is that foreign direct investment in retail trade is not permitted.
Dasmunshi: I said that the Tenth Plan document prepared by the Planning Commission has endorsed it while the Group of Ministers has rejected it.
Shri Arun Shourie : In any case, the Tenth Plan document is also coming up before the National Development Council. All the Chief Ministers including Congress Chief Ministers would have an occasion to comment on individual proposals. In that, there are trading activities for exports or for joint ventures, which are permitted in wholesale activities and so on but those are specialised things. If you would like me to read them, I can read them out but as far as retail trade in general is concerned, he is completely right that since 1997 that has been the Government's policy. I understand there were two companies which were given permission before 1997 in this regard but since then nobody has been given permission. We have checked that with the Reserve Bank also.
America's biggest retailer today is Walmart. It has thousands of stores all around the world. The largest number is in the U.S. The second largest is in Mexico. According to a New York Times report, this has been achieved by the retail giant's Mexico arm by "dishing out generous payouts to aid its mammoth growth." Shortly after the Times published its investigation in April, 2012, Walmart confirmed that it had launched an investigation into the allegations of bribery at Walmart de Mexico.
On the same Friday (September 14) Prime Minister Manmohan Singh rolled out the red carpet for Walmart, New York City, America's largest, shut Walmart out.
Again ironically the very Friday the UPA government handed the FDI bouquet to Walmart and lobbyists assured that small retailers are safe, Atlanticcities, a web-newspaper from the stable of the famous Foreign Affairs magazine, carried a devastating headline news: 'Radiating Death: How Walmart Displaces Nearby Small Businesses'.
Weeks ago, on June 30, over 10,000 people, shouting "Walmart = Poverty", marched through Los Angeles, America's richest city, against Walmart stores.
On June 1, hundreds protested in Washington DC against Walmart. "Say-No-To-Walmart" is an ongoing movement all over the United States.