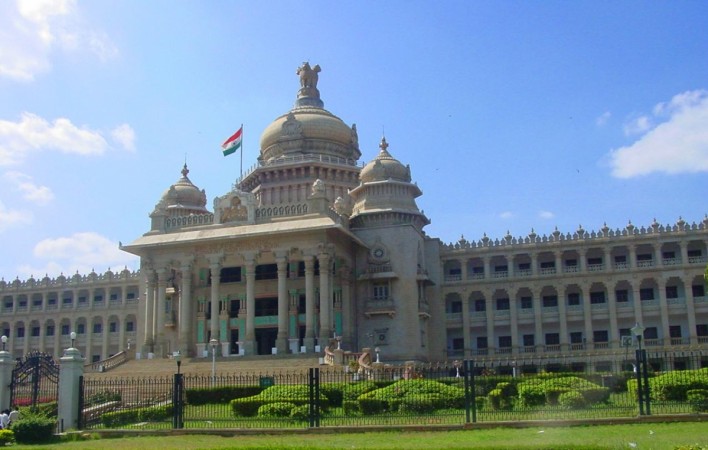 The Indian National Congress (INC) has said the kickbacks received by Karnataka MLAs to exchange their votes for money was not corroborated by strong evidence to cancel the scheduled Rajya Sabha elections in the state, reported the Mint. A news channel on June 2 aired sting videos alleging bribery charges.
South India's only state to have a Congress government, Karnataka holds the potential to increase the Congress' numbers in the Upper House of Parliament. Its four seats will see five heavyweights compete for the house membership on June 11.
Senior Congress leaders along with party general secretary Digvijay Singh met Election Commission officials on Monday and submitted a memorandum requesting not to countermand the scheduled election.
"We have submitted our memorandum in which we have requested the EC to allow the elections to go on (as per schedule)," Singh told reporters after the meeting. He added: "We have given the reference of Jharkhand where cash was recovered from candidates. It will be wrong to consider the Jharkhand example for Karnataka. There is not enough evidence and so the elections should not be countermanded."
Bribery charges against Jharkand MLAs in 2012 led to cancelling of the RS elections in that state. The EC then had seized a vehicle belonging to a relative of an independent candidate and seized Rs. 2.5 crore in cash. In an order issued, the EC held that the polls were "seriously vitiated and cannot be permitted to proceed," reported the Mint.
A senior EC official told the daily that the bribery charges against Karnataka MLAs caught in a sting operation was being considered and a decision can be expected soon. The EC has also sought a report from the Chief Electoral Officer of the state.
BJP nominee and current Union Commerce Minister Nirmala Sitharaman and senior Congress leaders Jairam Ramesh and Oscar Fernandes are some of the key people in the fray.