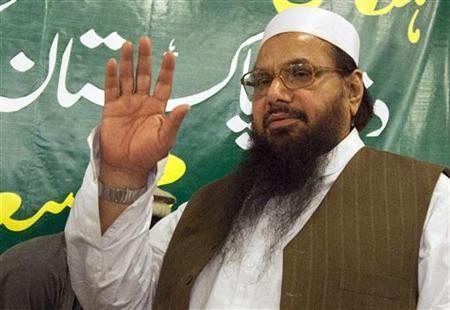 Refuting allegations by the Congress, External Affairs Minister Sushma Swaraj on Tuesday reportedly said that the government did not facilitate the meeting between journalist Ved Pratap Vaidik and Mumbai attack conspirator Hafiz Muhammad Saeed.
"Categorically and unequivocally I would like to state that the government has nothing to do with Mr Vaidik's meet with Hafiz Saeed," ANI quoted Swaraj.
She added that the government was unaware of this meeting and was a private trip. Finance Minister Arun Jaitley too refuted the charges.
Vaidik, who is also an associate of Baba Ramdev, met Jamaat-ud-Dawa's chief Saeed on 2 July. His meeting created a controversy in the Indian politics on Monday. The Congress attacked the Centre for facilitating the meeting and "putting national security in danger."
Congress party spokesperson Shakeel Ahmed reportedly alleged that Vaidik is associated with some members close to Prime Minister Narendra Modi and that he might have sent him to the meeting.
After all these accusations, Vaidik reportedly said that the meeting was arranged by a Pakistani journalist friend and not by the Indian government.
"When I was in Pakistan, the media criticism of Hafiz Saeed in India came up for discussion. It was then that a Pakistani journalist asked me if I would like to meet Saeed in person. I agreed and a call was immediately made to fix the meeting," Times of India quoted Vaidik.
He reportedly said that his meeting with Saeed was just out of curiosity, as he "wanted to analyse Saeed's mind and know why he committed heinous crimes against India."
Having a professional reputation of not declining to meet anyone ever, Vaidik accepted this one too, like any other meetings from the past, with Maoist leaders, LTTE leader Prabhakaran and many other enemies of India.
Expressing his disappointment over the allegations made by the Congress, he reportedly felt sad that the accusations are being made by the party with which he worked the most.
His meeting with the terror group head created turmoil in the Parliament for another consecutive day. The proceedings in the Lok Sabha and Rajya Sabha were adjourned for the second time on Tuesday when the Congress gathered in the Well raising slogans disrupting the Question Hour.
Saeed had allegedly perpetrated the 2008 Mumbai terror attack that killed around 164 people and caused immense destruction to The Taj Mahal Palace Hotel.