Bollywood actress Sridevi's death shocked and saddened millions around the world, including actors, politicians and sportspeople. The Congress, however, received a lot of flak from social media for posting an insensitive tweet after news of the Chandni actor's demise broke.
The Congress' official Twitter handle posted at around 7.03 am that they regret the passing away of the legendary actress and conveyed condolences to her loved ones. But the last line of the tweet angered many.
The line, which was termed politically charged and offensive, read: "She was awarded the Padma Shri by the UPA Govt in 2013."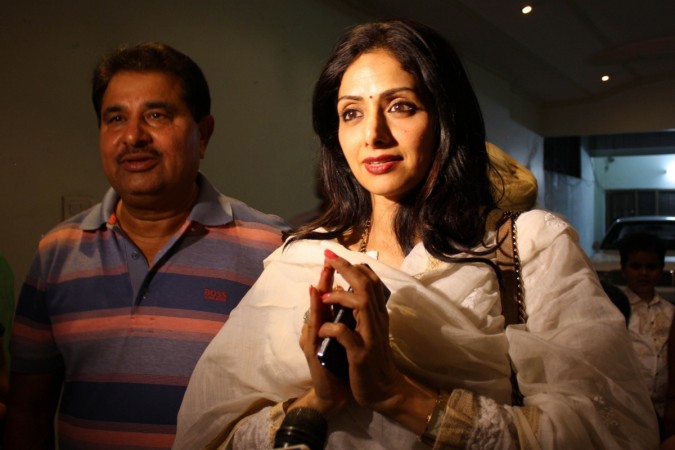 The tweet was deleted following outrage on social media.
People accused the political party of trying to gain mileage out of the star's death and being insensitive towards her family, friends and fans.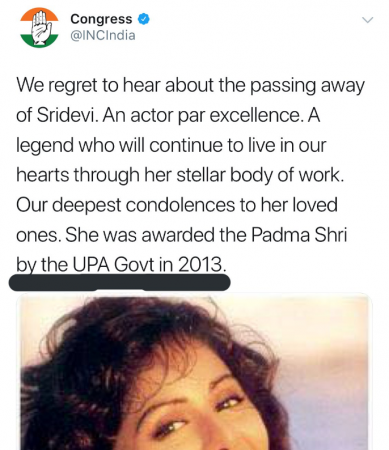 Sridevi died on Saturday night of a massive cardiac arrest while she was in Dubai to attend the wedding of Mohit Marwah. She had stayed back in Dubai after her husband Boney Kapoor and daughter Khushi Kapoor returned to Mumbai following the wedding celebrations. Her daughter Janhvi Kapoor was busy with the shooting of her upcoming movie Dhadak.
Sridevi's mortal remains are expected to be brought to Mumbai from Dubai between 12 pm to 2 pm by Cargo or a private jet. Fans and media have gathered around her house in Mumbai to pay tribute to the legendary actress.
Check out the reactions of Twitter users on the Congress's post on Sridevi:
Whoever the Person is Operating this Congress Twitter handle ... Must b smoking Nice quality Ganja
Or may b he/she is Mentally Challanged like #Pappu ..
This was so cheap ... #Sridevi is a Legend not a
Bar Dancer pic.twitter.com/IsTO9ehjxB

— Sabka Marley ?? (@MarleyYadaV) February 25, 2018
#Sridevi was born during Nehru ji's Rule, got her 1st movie under Indiraji's Rule, was awarded Padma Sri under Sonia ji's proxy Rule but died under Modi's Rule. Is this Acche din?? People are dying under Fascist Modi~ @INCIndia / Scamgress/Khangress/All India Doormat Association pic.twitter.com/mZWfNbxhi3

— Abhishek Singh (@IAbhi_s1) February 25, 2018
What?!?

Congress plays politics over legendary actress, Sridevi's death. Won't own scams during its times but tries taking credit for the honour of an actress par excellence.

Dear Congress,

Sridevi didn't get Padma Shri, Padma Shri won Sridevi. pic.twitter.com/I54X2bXGbZ

— Sonam Mahajan (@AsYouNotWish) February 25, 2018
Congress is so desperate that it will take credit for a Padma awarded to Sridevi in 2013 but disown Nirav Modi whom they have given 11000 crore unsecured loan in 2011 https://t.co/iKFXtClNWv

— Rishi Bagree ?? (@rishibagree) February 25, 2018
Just now, Congress deleted this tweet over #Sridevi. but damage is already done. They even don't spare Politics on death. This is what you have done to India, Misrule & then Deleted Facts, History... & all your wrong doings. pic.twitter.com/7uSesaUVke

— Anshul Saxena (@AskAnshul) February 25, 2018