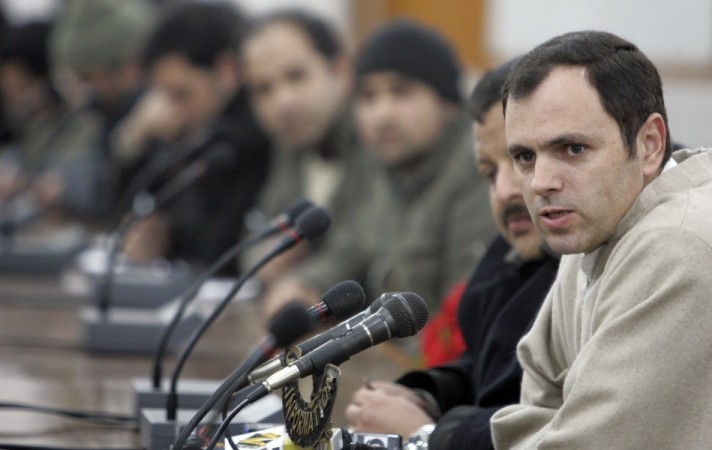 Following their debacle during the general elections, the Indian National Congress and the National Conference have decided to contest the upcoming assembly elections in Jammu and Kashmir separately, thus bringing to an end the five-year ruling partnership.
Congress on Sunday announced that it would contest all the 87 seats alone.
"The Congress leadership in the state, in consultation with the party high command, has decided to contest the assembly polls on its own. It is better not to be dependent on other parties. Like we did in 2002 and 2008, let us contest on our own," Ghulam Nabi Azad, former chief minister and leader of opposition in the Rajya Sabha, said during a press conference in Jammu.
"We've consulted the various stakeholders within the party and they were not in favour of any pre-poll alliance with any political party in the state," Azad added.
"There was not much of help that came from our alliance partner in previous elections," PTI quoted General Secretary of the All India Congress Committee Ambika Soni.
Both former allies lost all six seats of Jammu and Kashmir in the general elections held in April and May this year. Congress lost two Lok Sabha seats from Jammu and one from Ladakh to the Bharatiya Janata Party, while the National Conference lost all the three seats in the Kashmir valley to the People's Democratic Party (PDP).
While the two parties had fought the 2008 assembly elections separately, they came together during the parliamentary polls in 2009 to rule the state for five years.
The strain in the relationship has been evident ever since the rout in the general elections. With the National Conference losing credibility among citizens and the Congress facing embarrassing defeat, the two parties were expected to have taken different paths for the assembly elections.
Reports about meetings taking place within the Congress to discuss the assembly polls emerged in June.
The break-up didn't go down too well with the two partners, with Jammu and Kashmir Chief Minister Omar Abdullah accusing Congress of distorting facts to show it had called for the break-up. Abdullah, in a series of tweets on Sunday, said that he had met with Congress chief Sonia Gandhi earlier to indicate his party's decision to fight alone.
I met the Mrs Gandhi 10 days ago & thanked her for all her support. I conveyed NC's decision to fight the elections alone 1/n

— Omar Abdullah (@abdullah_omar) July 20, 2014
I explained the reasons but also told her I wouldn't be making a public announcement because I didn't want it to look opportunistic 2/n — Omar Abdullah (@abdullah_omar) July 20, 2014
For it to be spun now as a Cong decision is wrong & a complete distortion of the facts, not surprising but incorrect none the less 3/3

— Omar Abdullah (@abdullah_omar) July 20, 2014
The coalition would continue till the assembly elections are announced, Abdullah said.