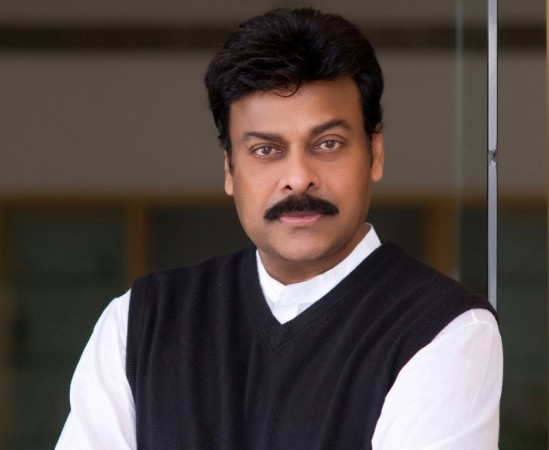 Union Tourism Minister Konidala Chiranjeevi, the matinee idol of south Indian cinema, is widely expected to be the next Chief Minister of united Andhra Pradesh. Even President Pranab Mukherjee summoned him on 25 February.
The President is said to have elicited from him the latest situation in the state, in the wake of the Union government's announcement of carving out the Telangana state out of united AP. However, the Congress high command is yet to make a call on the matter.
Before his entry into politics with the launch of his own party Praja Rajyam in 2008, his blockbuster movies like "Indra" and "Tagore" made him the highest paid hero in south India. During that time, sensing Chiranjeevi's intention to enter politics, it is said that both Chandrababu Naidu of TDP and the then-Chief Minister of Congress Rajasekhar Reddy tried to woo him into their respective parties but the actor politely refused the invitation at that time.
Born on 22 August 1955 in Mogalturu, a village in the coastal district of West Godavari in AP, Chiranjeevi is the eldest of three sons of an excise constable. His real name was Konidala Siva Sankara Varaprasad. Apart from acting, he is also widely known for his philanthropy. He set up the Chiranjeevi Charitable Trust for eye and blood donation and his fans take an active part in it. His son Ram Charan and younger brother Pawan Kalyan are leading hero actors in Telugu cinema. His other brother Naga Babu is also a film producer and actor.
As per the Union Tourism Department, the 30-year film career transformed Chiranjeevi into one of the most popular persons in Andhra Pradesh. Chiranjeevi chose to give a positive direction to his fan base to become a force for the social good. Hence he started Chiranjeevi Trust on 2 October 1998, which set up blood and eye donation wings.
Chiranjeevi Blood Bank contributed more than 57,000 units on its own, particularly to the people of Below Poverty Line (BPL). The blood donation wing has saved up to 3,500 lives across Andhra Pradesh.
He was awarded an honourary doctorate by Andhra University in 2006, while Padmabhusan, the third highest civilian award in India, also came his way the same year.
Here is the timeline of Chiranjeevi since he entered politics
2008: Chiranjeevi launched 'Praja Rajyam' political party in Tirupati, the abode of Tirumala god Sri Venkateswara in Andhra Pradesh. He said that social justice was the main agenda of his party. In November, he expressed that his party would support Congress, if it announces separate state of Telangana.
2009: In general elections, Praja Rajyam won 18 of the 295 seats in the Andhra Pradesh State Assembly. He was elected to the AP Assembly from the Tirupati constituency but lost the Palakollu constituency in West-Godavari district, from where he had contested simultaneously.
2010: Chiranjeevi's Praja Rajyam supported Congress and helped it to keep away rebelling leader YS Jaganmohan Reddy, soon after K Rosaiah resigned as Chief Minister. Jagan Mohan Reddy revolted against Congress for not making him the CM, soon after his CM father Rajasekhar Reddy was killed in a chopper mishap on 2 September 2009. Rosaiah succeeded Rajasekhar Reddy on 3 September 2009 and continued till 24 November 2010. He resigned the CM post, citing ill health. Chiranjeevi extended support from outside to Congress and made the then-AP Speaker Kiran Kumar Reddy the CM. But Chiranjeevi did not merge his party with Congress at that time.
2011: On 6 February 2011, Chiranjeevi merged the 30-month-old Praja Rajyam party in Congress after two weeks of parleys with Sonia Gandhi, the president of the Congress, which feared the 'no-confidence motion' in the state assembly in the wake of the emergence of Jagan Mohan Reddy's YSR Congress Party and the stronghold of Telangana agitation.
2012: More than a year after merging his party into Congress, Chiranjeevi was given the Rajya Sabha seat on 29 March 2012. He took the oath as a Rajya Sabha member on 3 April 2012. On 28 October 2012, he was sworn in as the Union Minister of State (Independent charge), Ministry of Tourism.
2013: Chiranjeevi on 4 October opposed the Centre's decision to split AP to form Telangana and sent his resignation letter to Prime Minister Manmohan Singh.
2014: During the peak time of agitations for Telangana and against it in Seemandhra area, Chiranjeevi took the stand to keep the state united but ultimately Telangana state was announced by the Centre after passage of the bill in both AP Assembly and Parliament, with the support of main opposition party BJP.