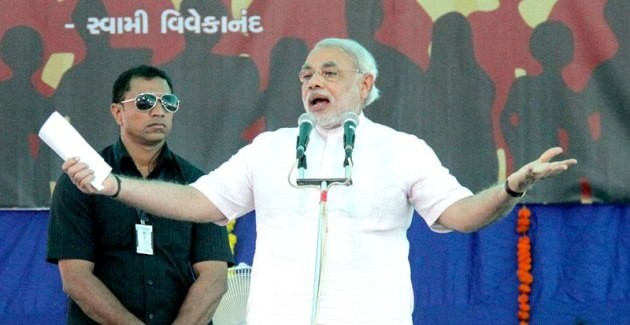 The Congress lashed out at Gujarat Chief Minister Narendra Modi, who during a Bharatiya Janata Party (BJP) meet in Pune accused the Congress of using secularism to hide its failures.
"Whenever Congress is in trouble for any issue, price rise, corruption they do not answer the people but wear 'burkha of secularism'. They wear this burkha of secularism and hide behind. Do not talk of anything, secularism is in danger. In name of secularism Congress cannot keep poor unemployed or hungry any longer," Modi had said at the rally on Sunday evening.
The comment triggered outrage from Congress with Information and Broadcast Minister from Manish Tewari saying, "Secularism veil is inclusive while wheels of communalism are extremely sectarian, and need to be crushed."
He asked Indian citizens to stand up against the Gujarat CM and 'reaffirm their commitment to basic ideas of secularism'.
"We need to go back to Congress' basic vision of India which is pluralistic and inclusive. The cloak of secularism is all pervasive. It envelops Hindus, Muslims, Jains, Sikhs, people of all faiths," he said, reported Hindustan Times.
Congress General Secretary Digvijaya Singh also hit back at Modi over his 'burqa (veil) of secularism' remark earlier on Monday.
"I want to know what definition of secularism according to Modiji is. One religion, one culture, one nation is the definition of secularism according to the RSS and Advaniji. Modiji should clarify what is his definition," Singh told reporters in New Delhi.
At the Pune rally, Modi also raised questions on the issue of Congress' failure to eradicate poverty. He also blamed the 'economist PM' Manmohan Singh for the weakening economy and the free fall of the rupee.