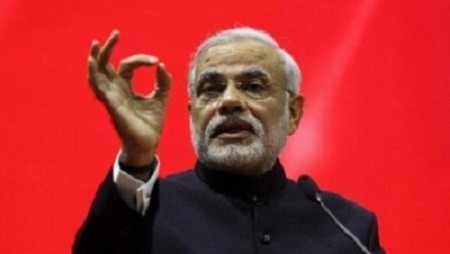 Bhartiya Janata Party's Prime Ministerial candidate Narendra Modi launched a direct attack on the Congress for its misrule in the country and corruption.
"I heard the speech of a big Congress leader yesterday. He was speaking against corruption. See their daring. No one else can dare do this. These people are so immersed in corruption. Despite this, they make innocent face and speak against corruption," Press Trust of India has quoted Modi as saying while addressing a massive rally in Mumbai.
Modi was referring to Congress Vice President, Rahul Gandhi, who while addressing a gathering of business organisations had hailed the Congress initiatives to fight corruption in the country.
Alleging the prevalence of corruption in Congress, Modi said the solution to all problems faced by the country lies in riding the country away from the Congress rule. "The problems we face won't be solved till we free India from vote bank politics and get it on path of development politics. And the reason for the problems the country faces is not our history or geography but Congress-ruled governments," he said.
Lambasting Congress for following a divide and rule system in India, Modi said: "Minorityism and communalism have been the tradition of Congress."
"Congress is involved in divide and rule for vote bank politics. This has been their speciality. They learnt this from British".
On the issue of black money, Modi is quoted as saying: "Those looting India deposit black money in Swiss banks and even a child knows this. This money should be brought back and spent for poor."
"All BJP MPs, under Advaniji's leadership, have given in writing that no BJP leader has money in banks abroad. I want to challenge Congress to pass a law, form a committee, and bring this money to India in three years and give it to poor. But they don't want to do this as they know that their partymen are immersed in this," he said.