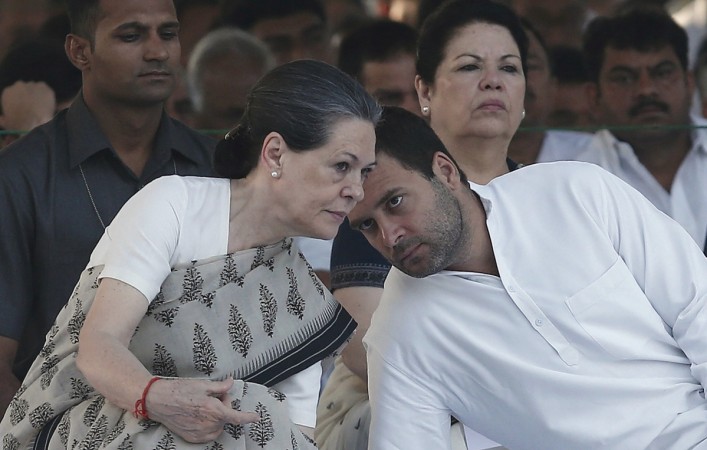 On the day that Maharashtra Industries Minister Narayan Rane resigned from the Prithviraj Chavan-led Congress government, stating that he did not want to be on the losing side for the upcoming assembly elections, Assam Health Minister Himanta Biswa Sarma also quit the Tarun Gogoi-led party in the northeastern state.
Sarma is said to be heading a group of 30 Congress MLAs who look to oust Gogoi, whom Congress vice-president Rahul Gandhi continues to back.
The flailing party has been left scampering to check on internal rebellion, especially in states where it is hoping to redeem itself through the assembly polls, after the parliamentary elections debacle where it won a historic low of 44 seats.
This is not the first time Gandhi is facing the heat from within his party. While Congress leaders are dismissing reports that the Maharashtra and Assam leaders are rebelling against Gandhi, the party's trouncing in the Lok Sabha elections under the leadership of the Gandhi scion has had many party members pointing fingers at him.
Here are some instances of Congress members criticizing Indira Gandhi's grandson for leading the party to its biggest electoral failure.
Former union minister Milind Deora had criticized Gandhi's advisors for not having strategized his campaign well, shortly after the election results came out in May. He, however, tweeted later saying: "My comments are out of emotions of deep loyalty to the party, pain of our performance and a sincere desire to see us bounce back. Nothing more."
Former party MP Gufran Azam had said Gandhi "destroyed" Congress. "Rahul thought Youth Congress is a lab and did experiments and destroyed it. He did the same with the Congress," Azam had said. He also blamed Sonia Gandhi for 'pushing' her son to lead the party. "You (Sonia) wished to make him (Rahul) a leader and got 10 years for it. But you failed to make him a leader. You failed to make him speak properly. He failed to acquire political acumen."
Former Kerala minister TH Mustafa went to the extent of calling his party leader a "joker" and was suspended in the process. "He (Rahul) should resign from the party. He should not continue. If he doesn't resign voluntarily, he should be removed. He acted like a joker," Mustafa had said.
It is not just Mustafa who used the "joker" adage. Rajasthan Congress MLA Bhanwar Lal Sharma called Gandhi an "MD of a team of jokers".
"The people who are around him (Rahul) are jokers. He is the MD of a team of jokers... Rahul Gandhi is directionless and has no policy. He and his advisors are responsible for the party's embarrassment and defeat in elections as there is no huge mass support for him," he had said. Sharma was suspended as well.
Party General Secretary Digvijay Singh also found himself in a bit of controvery when he said in an TV interview that "he (Gandhi) is by temperament not a ruling person. He is by temperament someone who wants to fight injustice". Singh, however, retracted the statement.