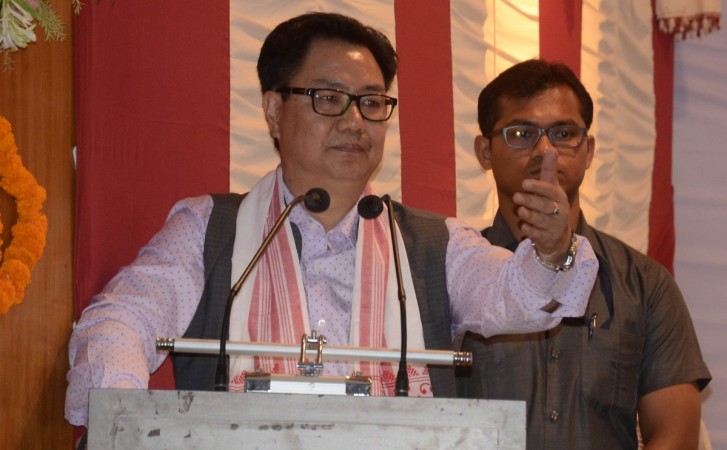 The Congress demanded from the government to either sack or seek the resignation of Minister of State Kiren Rijiju for his alleged role in Arunachal Pradesh hydro project scam. Rijiju lost his cool on Tuesday and said that those who "planted" stories about him being named with others in a vigilance report on corruption in North Eastern Electric Power Corporation (NEEPCO) project will get beaten up with shoes if they come to Arunachal Pradesh.
The Congress played an audio clip at a news conference saying Rijiju's role is suspicious in corruption and fraud related to the hydro-electric power project.
"Kiren Rijiju's role in this issue is under a cloud of suspicion. So he should be sacked or asked to resign till the probe is complete," the party said.
Rijiju had earlier said, "Jhoothe khayenge hamare yahan," reacting to a news report about his alleged involvement.
His cousin, Goboi Rijiju, a contractor, and other officials of the state-run NEEPCO, including its chairman and managing director, were named in a report by the project's chief vigilance officer. Corruption was reported in the construction of two dams for 600 MW Kameng Hydro Electric Project, one of the biggest hydro-electric projects in Arunachal Pradesh.
The MoS had written to the government to release funds to the contractor. Rijiju responded saying: "Is trying to help people corruption?"
Chief vigilance officer Satish Verma, a Gujarat IPS officer, had said that the fraud's worth may go up to Rs. 450 crore. He was later transferred to the CRPF in Tripura due to "unauthorised absence", which he said was done due to the investigation.
The West Kameng district administration, where the dams are situated, was also named in the report.
The CBI had reportedly made two surprise checks, without making any arrests.
The contractor reportedly filed inflated and fake bills to cart rocks for the construction of the dam. Transport challans and records by Patel Engineering Limited, which is carrying out the civil works for the dams, were found fake, the report said.